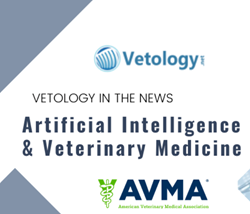 Our belief has always been that receiving a Vetology AI radiograph report within five minutes or less after taking the radiographs will positively impact patient outcomes. That said, every day I'm blown away by what Vetology AI does.
San Diego, CA (PRWEB) July 05, 2020
The American Medical Veterinary Association (AVMA) interviewed Seth Wallack, DVM, Board Certified Veterinary Radiologist and Founder of Vetology® and Eric Goldman, President of Vetology® AI. Dr. Wallack and Eric Goldman discussed upcoming challenges in the veterinary industry due to not having enough radiologists to meet the demand. The AVMA identified that artificial intelligence has the ability to speed up radiology interpretations and could provide a substantial benefit to both patient health and the DVM. Faster, reliable results translates into faster diagnoses, faster treatment implementation, and healthier pets.
This veterinary radiologist shortage is not just a problem for teleradiology practices, rather a global problem that impacts general practice managers, specialty and emergency hospitals. Turn-around times for obtaining a de novo radiograph over-read by a boarded veterinary radiologist can take upwards of 20 days. A 2018 study predicted that, by the end of 2022, 66 percent of the North American veterinary teleradiology caseload will not be met, which could potentially fuel life-threatening outcomes for our pets. Unfortunately, there is no end in sight for this veterinary radiologist shortage as veterinary radiology training programs continue to lose radiologists to the overwhelming teleradiology demand.
Vetology® recognized these impacts early on and decided to utilize the power of AI technology to automatically evaluate and report on radiographic images. In 2017, Vetology® developed and released image matching software. The techniques were first used internally to support the radiologists to be more efficient and meet demand. In 2018, the Vetology® AI radiology capabilities were further expanded and Vetology® AI was first to market with an augmented interpretation of radiographs using artificial intelligence and machine learning. This new approach to veterinary radiology allowed for a complete radiograph interpretation in 5 minutes or less, combined with the back-up of a boarded veterinary radiologist.
The AVMA full article link is: https://www.avma.org/javma-news/2020-07-15/artificial-intelligence-veterinary-medicine
About Vetology®
Vetology® AI is the creator and leader of the zero touch, hybrid Artificial Intelligence / Human intelligence veterinary teleradiology service, SmartAI®. SmartAI® is the combination of Artificial Intelligence backed by experienced, board certified veterinary radiologists. Vetology® AI combines years of board certified veterinary teleradiology experience with the increased interpretation speed, accuracy and productivity AI brings to veterinary radiology. Vetology® AI offers a $60/month AI radiograph solution that typically delivers reports back to the veterinarian in five minutes or less. The company utilizes an automatic, zero touch proprietary submission and report process that does not alter a veterinary hospital's current radiology workflow.
To learn more, contact Vetology® AI for a demo.
______________________________________________________________________
CONTACT: Eric Goldman
COMPANY: Vetology® AI
TELEPHONE: (888) 416.2124
EMAIL: info@vetology.net
WEBSITE: vetology.ai
SOURCE: Vetology® AI
Vetology® and SmartAI® are trademarks of the Veterinary Imaging Center of San Diego, Inc.