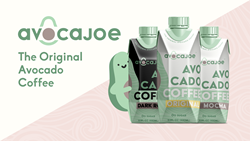 "We've developed a great tasting, non-dairy avocado milk using no grains, nuts, or chemicals. It's amazing mixed with cold brew!" - Clint Bondzuk, Founder
LAS VEGAS (PRWEB) May 09, 2020
Avocajoe Brands Inc. is launching a Kickstarter campaign to fund their first run of ready-to-drink avocado coffee. Avocajoe is the only fatty coffee (think bulletproof coffee) that delivers multiple health benefits without relying on dairy or bad-for-you saturated fats for its rich and creamy mouthfeel. It's 100% plant based, nut and grain free, non-GMO, naturally sweetened with monk fruit and is made with one of the world's healthiest foods, the amazing avocado! The revolutionary drink offers a new way for the health-conscious consumer to get essential monounsaturated fats in their diet.
"I've got a feeling this is going to take off! People love avocado, people love coffee, and it's great for your mind and body." says Clint Bondzuk, Founder of Avocajoe Brands. "We've developed a great tasting, non-dairy avocado milk using no grains, nuts, or chemicals. It's amazing mixed with cold brew!"
Benefits of Avocajoe include:

2/3rds of an avocado's worth of healthy fats in every container.
as much caffeine as your morning cup of coffee.
100% plant-based ingredients including ground avocado, avocado oil and cold brew coffee.
Naturally sweetened with monk fruit extract, for a great taste with 0g of sugar.
It's vegan, gluten free, keto friendly and has no nuts or grains!
Avocajoe will be available for pre-order via Kickstarter beginning May 2020. For more information on Avocajoe and the crowdfunding campaign, visit avocajoe.com.
About Avocajoe Brands: Avocajoe Brands is a beverage and nutrition startup, focused on increasing consumption of heart and brain healthy monounsaturated fats to the masses through a line of avocado based products. After the launch of its flagship Avocado coffee, the company plans to add 2 additional coffee flavors, and a line of coffee free children's beverages to support brain development and and encourage a healthy childhood.
Avocajoe Brands is a proud member of 1% for the Planet.