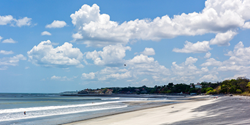 "These are perfect places to escape to for a break from the cold—or to move to if you want to say goodbye to the winter weather for good."
BALTIMORE (PRWEB) November 20, 2018
"Winters in the U.S. seem to be getting less and less predictable each year," says International Living Executive Editor Jennifer Stevens. "But in plenty of great-value retirement destinations around the world, the weather stays warm and sunny year-round. These are perfect places to escape to for a break from the cold—or to move to if you want to say goodbye to the winter weather for good."
Once a quiet fishing village on Mexico's central Pacific coast, Puerto Vallarta has grown rapidly into the world-class hub it is today.
Culturally rich, there's always of plenty of entertainment choices, as well as great dining options. With superb medical care and a large international airport offering plenty of direct flights from numerous cities in Canada and the U.S., the dynamic coastal town is an easy, attractive escape for retirees.
Another big attraction is that it's never cold in Puerto Vallarta.
"With high temperatures in the 80s F and lows in the mid-60s F, Puerto Vallarta is a long-standing favorite for winter escapes," says Don Murray, IL Riviera Maya Correspondent. "Leave your boots and parkas up north and enjoy sunny days and romantic nights in this seaside hotspot."
A typical retired couple can live well here for under $3,000 a month—all in.
Montevideo, the capital of Uruguay, is a coastal city on the Rio de la Plata, with a population of 1.4 million. It is one of the most diverse and sophisticated cities in South America. The city has many large parks, plazas, tree-lined streets, sandy beaches, and wide avenues.
Uruguay has a warm temperate climate in which cold weather is almost unknown. This wonderfully mild climate is due to the fact that the whole country is located within a temperate zone.
"Springtime comes to Montevideo from November on, with daytime temperatures in the low 70s F," says Jim Santos, International Living Correspondent.
"Flowers bloom, and the long Rambla along the Atlantic starts to see more Uruguayans out enjoying the weather. By December, temperatures are in the 80s F, and now beach umbrellas are blooming on the 10 public beaches."
Most expats are attracted to Uruguay for its tranquilo (calm) lifestyle—a healthy, stress-free approach to living. Two people can live in Montevideo on $3,200 a month.
Tamarindo, Costa Rica, is a beach town on the Pacific-coast. With more than two miles of golden sand, the surf town embraces an outdoorsy culture.
"December is the best month to visit Tamarindo in terms of weather," says IL Coastal Costa Rica Correspondent, Kathleen Evans. "The seasonal rains are finished in November, so everything is lush and green. The chance of rain is nearly zero. The days remain deliciously warm, but not hot, and the evenings cool off comfortably for that sunset beach walk and open-air dinner.
Temperatures range from 84 F for a high to 73 F for a low."
The coastal town is accessible for a couple on $2,500 a month (housing included), and in addition, Costa Rica offers high-quality but low-cost medical care, good-value real estate, established expat communities, and welcoming locals.
Huanchaco, Peru
Huanchaco is a northern surfing and fishing village that has managed to maintain its small-town charm while being located just 20 minutes from the larger city of Trujillo.
Deemed the birthplace of modern ceviche—typically made from fresh raw fish cured in citrus juices, such as lemon or lime, and spiced with ají or chili peppers—Huanchaco is still considered one of the best places to sample this Peruvian delicacy.
For most of the year, temperatures hover around the low to mid 70s F and rainfall is virtually non-existent.
"Pretty much the whole coast of Peru is sunny at that time," says Steve LePoidevin, IL's Peru Correspondent. "Springtime starts in late September, early October, so there's plenty of time to start planning to avoid the severe North American winters. And it's reasonably priced. Here, a couple could easily live on a budget of $2,000 or less."
On Panama's Pacific coast, Coronado sits about an hour from Panama City. This charming town is home to one of Panama's biggest, most active expat communities.
"Coronado is located in Panama's Arco Seco or Dry Arc Region," says IL Panama Editor, Jessica Ramesch. "Most every single morning, you can enjoy bright rays of sunshine and a sky that is a deep shade of cornflower blue.
"When it does rain, it's usually just for an hour or two in the afternoon. Temperatures rarely climb above 88 F during the day, and it's usually about 10 degrees cooler at night. With ocean breezes and plenty of sun, we're talking mild, happiness-inducing weather."
Depending on lifestyle choices—many retirees hire maids and landscape gardeners—a monthly budget for a couple in Coronado could run from $1,750 to $2,975.
At the tip of a peninsula off the coast of mainland Belize lies the charming little seaside town of Placencia. The opportunity for adventure mixed with the relaxed Caribbean way of life makes the town a perfect retirement beach haven.
The idyllic, postcard-perfect surroundings also help make Placencia one of Belize's most sought-after places to retire.
"One reason Placencia, Belize is so popular starting in November, which is the official start of high season, is that the weather in southern Belize is usually perfect this time of year," says Laura Diffendal, IL Belize Correspondent. "Low 80s F during the day, and 70s F at night combined with sea breezes—you won't need anything more than one long-sleeved t-shirt."
Placencia is one of the more expensive places to live in Belize due to its popularity with tourists and expats alike but the cost of living here is still much lower than in the U.S. A couple can live comfortably here for $2,500 a month.
The Algarve is Portugal's southernmost region and is the vacation destination of choice for most Portuguese and many other Europeans, drawn to the resort-like feel of the towns along this famous Atlantic Coast.
The Algarve is famous for its golf courses, fresh seafood, and the hot and spicy chicken called Frango da Guia. The area is very expat-friendly, and retirees can get by with English due to generations of British influence.
The region is striking. The crashing waves and steep cliffs of the western-most tip, in Sagres, quickly become long, sandy swaths of beaches and coves stretching for miles to the east, all the way to Spain.
"It's hard to find fault with the climate in the Algarve," says Tricia Pimental IL Portugal Correspondent. "You can count on sun most of the time. During the 'rainy season' of October through April, it's still sunny around two-thirds of the time.
"December is the wettest month, during which you can expect about four inches of rain to fall over the course of the month. But on any given day, the precipitation is more likely to come in a heavy, brief shower, and then the warm Algarve sun reappears."
Here, a couple can live well on a monthly budget of $2,000-$2,400 depending on the housing they choose.
The report can be found here: 7 Warm Weather Spots to Avoid the U.S. Winter
Editor's Note: Members of the media have permission to republish the article linked above once credit is given to Internationalliving.com
Further information, as well as interviews with expert authors for radio, TV or print, is available on request. Photos are also available.
For information about InternationalLiving.com content republishing, source material or to book an interview with one of our experts, contact PR Managing Editor, Marita Kelly, +001 667 312 3532, mkelly@internationalliving.com
Instagram: https://www.instagram.com/internationalliving/
Twitter: @inliving — https://twitter.com/inliving?lang=en
Facebook: https://www.facebook.com/International.Living/
About International Living
Since 1979, InternationalLiving.com has been the leading authority for anyone looking for global retirement or relocation opportunities. Through its monthly magazine and related e-letters, extensive website, podcasts, online bookstore, and events held around the world, InternationalLiving.com provides information and services to help its readers live better, travel farther, have more fun, save more money, and find better business opportunities when they expand their world beyond their own shores. InternationalLiving.com has more than 200 correspondents traveling the globe, investigating the best opportunities for travel, retirement, real estate, and investment.