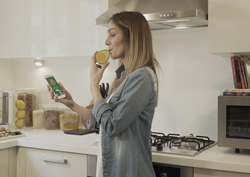 "Everyone's body, health and metabolism are different, Avokadio is here to make a difference and optimize your health, starting with a single breath."
LEWES, Del. (PRWEB) February 20, 2023
Breathe into wellness with Avokadio, launching today on Indiegogo. Avokadio is a portable device that combines hardware and a mobile app to offer artificial intelligence-backed nutritional advice based on breath biomarker analysis. The breath analysis technology measures the ketones in a user's breath to track their fat-burning metabolism and provide user-specific recommendations such as weekly meal plans and basic exercises to help achieve wellness goals.
The prevalence of wearable wellness devices such as smartwatches, patches and smart rings has led to an overload of generalized data that doesn't allow people to implement scientific metrics into their daily routine, nutrition and exercise. Avokadio is a wearable wellness device that simplifies the scientific metrics and provides a personalized wellness experience through advice, evolving nutritional plans, and basic exercise recommendations.
Users are encouraged to track three to four breath measurements per day, ideally an hour post-meal, to allow Avokadio's AI algorithm to learn more about the user, their body's fat-burning metabolism and how they process the food they eat. The nano-tech ketone sensors measure a user's fat-burning ketones with Avokadio's easy-to-understand scoring system. The higher the score, the higher the user's fat-burn rate, allowing them to track the user's health and progress. The scoring system is:
1: No Fat Burn
2-4: Low Fat Burn (Low Ketosis)
5-7: Moderate Fat Burn (Moderate Ketosis)
8-10: High Fat Burn (High Ketosis)
As Avokadio gathers more data and learns more about a user's body, it provides basic exercise recommendations and a personalized approach to meals.
"Diets are stressful and restrictive so we want to simplify and help people breathe into wellness," said Avokadio creator and co-founder, Dr. Gokcen Garipoglu. "Everyone's body, health and metabolism are different, Avokadio is here to make a difference and optimize your health, starting with a single breath."
Avokadio offers a 12-month subscription on the smart app, available to download for free on iOS and Android devices, where users can actively follow their personal data to understand their nutrition, exercise and eating habits. Plus, the meal plans adapt based on a user's preferences and dietary restrictions, as well as their real-time Avokadio fat-burning score.
The Avokadio team has conducted two clinical trials and published a research-proven paper to support the AI-generated analysis and feedback. To pre-order visit, pr.go2.fund/avokadio.
About Avokadio
Avokadio is a lifestyle and wellness brand that works to bring personalized nutrition, exercise and eating habits available to everyone. Based on science and clinical trials, Avokadio takes pride in their technology that allows a simple breath to track a user's fat-burning metabolism and provide user-specific recommendations utilizing the ketone count in the body. Avokadio is here to make a difference and optimize users' health–just by a single breath. For more information, visit https://www.avokad.io/.