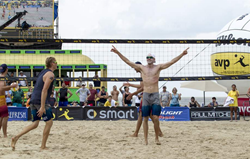 Beach Volleyball will be the hottest ticket in Rio! Everyone is either discussing or making significant investments on the beach. I expect a sponsorship bonanza for these six athletes. - Evan Morgenstein
Cary, NC (PRWEB) May 27, 2015
Pro volleyball stars Casey Patterson and Jake Gibb kicked off the 2015 AVP Tour season in impressive fashion with a decisive victory at the 2015 AVP New Orleans Open this weekend. Patterson and Gibb defeated fellow Premier Management Group (PMG) clients Phil Dalhausser and Sean Rosenthal in the final match on Sunday in straight sets 23-21, 21-14.
Patterson and Gibb came into the weekend as the top-ranked men's team on the AVP Tour. After 4 wins on tour in 2014, the dynamic duo is now firing on all cylinders heading into the FIVB (International Federation of Volleyball) season beginning Wednesday in Moscow, Russia.
Patterson commented, "Jake and I had a solid season last year. Coming into 2015, we wanted to be stronger, fitter and more focused on being the best in the world. Taking the first AVP event of the year from Phil and Sean is a great start."
On the women's side, PMG's own Emily Day and her new partner Jennifer Kessy battled the elements and top-seeded Olympic Gold Medalist Kerri Walsh-Jennings and Olympic Silver Medalist April Ross to take home a second place finish. The atmosphere was electric despite heavy rain that hampered much of the first day of competition and returned during the women's final Sunday.
PMG client Summer Ross and her new partner Jennifer Fopma opted to open their season on international sand this weekend with a respectable 5th place finish at the Prague Open. All of the talented clients mentioned above have set their sights on the Summer Olympic Games in Rio de Janeiro, Brazil in 2016.
"Beach Volleyball will be the hottest ticket in Rio! Representing 6 of the best athletes in the world has opened some amazing doors with Olympic and non-Olympic sponsors," said PMG CEO Evan Morgenstein. "Everyone is either discussing or making significant investments on the beach. I expect a sponsorship bonanza for these six athletes."
About Premier Management Group (PMG)
Premier Management Group is an elite sports marketing agency with the goal to create a space in the industry that is completely unique through superior creativity and innovation. PMG's goal is to provide each client with the same level of professional representation and service. Additionally, PMG is an industry leader in providing corporate consulting services and each client, whether an athlete or a corporation, is treated with an added personal touch. For more information on how to hire one of our featured volleyball stars for appearances/endorsements contact evan(at)pmgsports(dot)com or call (919)459-5426.