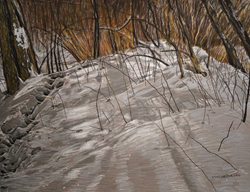 ROCKY RIVER, Ohio (PRWEB) October 03, 2018
Linda Gross Brown began the summer by being accepted into one of her mainstay exhibitions - the Allied Artists of America's 2018 Annual Exhibition. Her work, "Footsteps #16" was accepted into the exhibition and won the Diane B. Berhard Silver Medal Award. This marks the painting's second award of the year, as it earlier won the "Light/Shadow" award at the American Arists Professional League's 2018 Spirit of America Exhibition. This also marks the second time that Linda has received this prestigious medal in her career, the first time being in 2010 for "Footsteps #5."
"Footsteps #16" was also accepted into the Degas Pastel Society's 17th Biennial National Exhibition, taking place from October 5th - October 26th later this year at the Hammond Regional Arts Center in Hammond, Louisiana.
In addition, "Footsteps #15" was a finalist in the Artist's Magazine's 35th Annual Online Competition. "Footsteps #15" was also a finalist in the 2014 competition, and "Footsteps #12" previously won the Pastel Category of the organization's "All Media Contest" in 2014.
Closing out the summer, Linda's "Treehaven #1" and "Tracks in the Sand" have both been accepted into the Rejoice in Art! Juried Exhibition, "For the Beauty of the Earth 2018." The exhibition will take place in Redondo Beach, CA from October 13-28, 2018. "Footsteps #7" and "Footsteps #10" have also been accepted into the Chicago Pastel Painter's Seventh Biennial Exhibition "Strokin' VII." This exhibition will take place at the McCord Gallery and Cultural Center in Palos Park, Illinois, from October 8 - November 2, 2018.