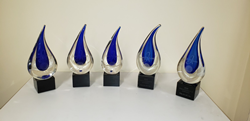 "It is recognition of all the hard work our team puts forward throughout the year to provide top-level customer service." - Everett Hill, President of Palm Air AC
BOCA RATON, Fla. (PRWEB) September 29, 2020
Earlier this year, Carrier Global Corporation honored the top 1% of Carrier Factory Authorized dealers with the Carrier President's Award. The Carrier President's Award recognizes Carrier dealers who exemplify leadership and management, customer satisfaction, expertise, business growth, and operational excellence. This annual award is Carrier's highest dealer honor and is designed to encourage self-analysis and reward individuals who have exceeded high expectations, not only as a Carrier dealer but also as one of their Carrier Factory Authorized Dealers, who are held to an even more exacting set of standards.
Among the 2020 President's Award winners were Palm Air AC, a reputable company that is no stranger to this title. They have been winners of this prestigious award multiple times over the years. The entire team at Palm Air is very proud to continuously provide superior service to its customers, community, and the Carrier brand. It serves as a reminder to keep on aiming for business improvement and to continue being role models for other HVAC professionals. President of Palm Air AC, David Jenkins expressed his gratitude for having Carrier recognize the hard work of the team and standing by them in acknowledging that they're the best at what they do.
Palm Air is always striving for business growth and looking for team members who will help them maintain their high level of customer satisfaction and expertise. Their success depends on more than just the quality of their products, which is why they are dedicated to investing in their people. They offer an apprenticeship program that is ideal for men and women who are fresh out of tech school with little to no field experience. They create a safe and educational environment for team members to learn the ins and outs of the industry as well as the processes and practices that make Palm Air AC stand out.
Palm Air is very proud to be able to offer employment opportunities to skilled and qualified individuals who might be looking for a job during these times. Click here to explore a career at Palm Air. The company's phenomenal leadership and dynamic employees hope to continue the journey they are on, growing, and learning to better serve their customers, communities, and families.