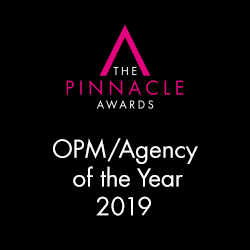 "Jamie and I have had our eye on this award for several years and it was such a thrill to hear our name called at the awards ceremony," said Director of Affiliate Marketing Stephen Robinson. "I couldn't be prouder of our team and the effort they put in each and every day."
COEUR D'ALENE, Idaho (PRWEB) August 27, 2019
Honored. Unable to contain their excitement. Motivated to continue raising the benchmark. These were just a few of the feelings around the JEBCommerce office when the agency heard its name announced as the 2019 Pinnacle Awards' OPM/Agency of the Year.
Held during the annual Affiliate Summit, the Pinnacle Awards is the industry's premier awards ceremony. The Pinnacle Awards' OPM/Agency of the Year title is considered the highest honor for an affiliate agency, bestowed to a team who "has gone above and beyond to help achieve the best results for their customers," according to the Pinnacle Awards website.
"As you can imagine, we were, and are, so excited to win this honor. I am so proud of every single member of our team who has put their heart, soul, sweat and tears into our clients' programs," said Founder and CEO Jamie Birch. "We are truly humbled and ready to work even harder in the coming year to make it a repeat!"
Pinnacle Award winners are selected by a panel of judges that includes some of the biggest names in the affiliate landscape. The excitement of being recognized by industry leaders was palpable across the JEB team, from longtime employees to new hires.
"Jamie and I have had our eye on this award for several years and it was such a thrill to hear our name called at the awards ceremony," said Director of Affiliate Marketing Stephen Robinson. "I couldn't be prouder of our team and the effort they put in each and every day."
Senior Affiliate Manager Chris Park, who attended the Pinnacle Awards ceremony in New York and accepted the award on the agency's behalf, found a different way to share his excitement. He snapped photos of people posing with the award trophy on his journey from the ceremony to the airport before catching his flight back to the office — where an ecstatic JEB team was waiting to celebrate with him.
Park has been working in affiliate marketing for nearly two decades but only recently joined the JEB team. He said the award confirms he made the right choice.
"It's fantastic to see the industry acknowledge the dedication, professionalism and knowledge that made want to join the JEBCommerce team," he said.
Based in Coeur d'Alene, Idaho, JEBCommerce is an award-winning performance marketing agency that helps online brands increase customer acquisition and drive growth. The agency was a 2016 finalist for the Rakuten Marketing Golden Link Awards' OPM Agency of the Year—an accolade it took home in 2009 and has been nominated for three times since—and was ranked #19 on Entrepreneur Magazine's 2017 Best Company Cultures list.