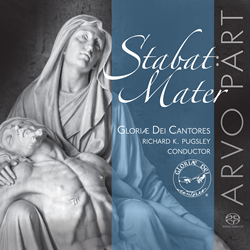 Arvo Pärt's Music is an Oasis of Peace & Serenity
ORLEANS, Mass. (PRWEB) March 25, 2021
ARVO PÄRT's music is an oasis of peace and serenity in our times. His music speaks contemplation and calm...
World-Renowned Gloriæ Dei Cantores sings ARVO PÄRT
Available Digitally EVERYWHERE.
Order the CD to SHIP NOW to your home.
At the threshold of Easter Weekend - Gloriae Dei Cantores' NEW Album - Stabat Mater: Choral Works by Arvo Pärt takes us on "a true acoustical variance and journey through Pärt's choral repertoire."
"The choir Gloriae Dei Cantores and its director, Richard K. Pugsley, have emerged
as prominent American champions of Arvo Pärt's music, with a distinctive sound to match."
-- James Manheim, All Music
"Pӓrts' music bypasses the intellect and auditory understanding and reaches the very soul itself. This, I believe is what draws me, our choir and, quite possibly the listener to the intrigue, curiosity and peace of Mr. Pärts' musical prayers and stories." (Richard K. Pugsley, Conductor)
"Any adversity makes artists move closer to what is important, essential." --Arvo Pärt
Modest about his achievements yet authentically convinced about the role of his music in today's world, Arvo Pärt (b. 1935) is today's most performed "classical" composer. For the past forty years, Pärt's compositions have shown and spoken the influence of multiple layers and global influences – the music of the Orthodox Church, bells, Gregorian chant, Renaissance polyphony, a compositional technique he developed called "tintinnabuli", and…silence. This particular recording offers a unique cross-section of Pärt's choral works, revealing the heart, soul and mind of a true master of his language in both text and music.
Gloriæ Dei Cantores (Singers to the Glory of God), under the direction of Richard K. Pugsley, is dedicated to promoting the best of sacred choral music. Several years ago, they began an in depth study of Arvo Pärt, immersing themselves in his compositional style. In this recording, the expressive beauty and clarity of Arvo Pärt's music shines through his choral compositions concluding with the final work - a musical landmark in Pårt's career - Stabat Mater, written to express the passion, agony, and love of Mary at the foot of the cross of her son.
"Deeply felt performances that are always mindful of allowing the unadorned simplicity, the stark beauty and unpretentiousness of Pärt's music to flower." --ClassicsToday.com
"Sumptuous blend...The harmonies here are so finely tuned that the overtones themselves become part of the musical fabric...Conductor Richard Pugsley reveals the details of each composition with a rare sensitivity and luminosity." --New York Classical Review
"As a disc of purely Pärt, this presents 70 minutes of exquisite spiritual power." --Fanfare
"All six works sung by the marvelous Gloriæ Dei Cantores choral group under Richard K. Pugsley on a new SACD from GDC Recordings speak beautifully to a modern audience...that also ultimately offers a message of hope." --TransCentury Communications
"Pärt's sound world, exemplified here by his choral music, demands performers with pure and beautiful tone, and impeccable intonation....Pärt also extends his vocalists to their limits. In all instances, the Gloriae Dei Cantores...acquits itself in superb fashion. The singing is unfailingly secure, lovely, and expressive." --Fanfare
"The latest album featuring the choral works Pärt is climbing up the classical chart of Billboard, the music industry standard record chart in the United States. "Stabat Mater: Choral Works by Arvo Pärt" debuted at number 15 in the chart but has now made it to the top five in one of the largest classical music markets of the world." --Estonian World
Follow us on Facebook and Join Gloriae Dei Cantores Mailing List to Learn More.