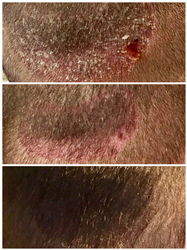 Studies have shown that half of Americans are unaware that the products they use every day contain petroleum-based ingredients or petrochemicals.
NEW YORK (PRWEB) September 10, 2020
PRĀZ Naturals​, a skincare company that focuses on fresh all-natural ingredients and clean, easy-to-use products, today announced that fans of their All In One Oil have reported added benefits beyond delivering urgent moisture, smoothing skin, restoring thinning hair and fighting the signs of aging. Prāz's commitment to all-natural skincare has culminated in their All In One Oil - a lightweight moisturizer for use "all over" that is the ultimate skincare genie in a bottle - granting healing for aching joints, inflamed skin and ultra-moisture for skin, hair, and nails.
The popular 10-step Korean skincare craze, compounded with a booming online skincare industry, has resulted in more people accumulating multiple products and adopting a maximalist daily regimen. Unfortunately, an overload of ingredients - especially harsh chemical ingredients - can lead to skin problems and irritation. A recent study conducted by OnePoll for Groupon has found that the average woman spends $3756 per year on her appearance due to sheer volume of product. PRĀZ Naturals' All In One Oil is a one step skincare option that works not just to repair the skin barrier from damage and irritation from too many products, but its antioxidants also have the benefit of aiding in dermatitis and minor burns, treating thinning hair, and delivering Omega 3,6, & 9 to fight aging all in one simple step.
The active ingredient of black seed oil has been used for centuries in parts of Asia and the Middle East. Black seeds were reportedly found in King Tut's tomb and the ancients often relied on its anti-microbial and anti-inflammatory properties. The All In One Oil from PRĀZ uses black seed oil as well as plant-based antioxidants combined with vitamins C and E to deliver UV protection while minimizing red skin, and reducing hyper-pigmentation. However, it's the oil's healing properties have come as a boon to those who suffer from skin ailments and often face the issue of being unable to easily find eco friendly options that are free of chemicals to treat those ailments.
"Studies have shown that half of Americans are unaware that the products they use every day contain petroleum-based ingredients or petrochemicals." Says Sasha Nialla, Founder of PRĀZ Naturals. "That's 165 billion people that are unknowingly welcoming toxins into their homes - and it wasn't too long ago that I was one of them. All it takes is shopping more consciously and making the decision to choose eco-friendly products that can be the start in treating skin and other health ailments."
Another active ingredient, Eucalyptus oil, acts as a natural antiseptic that relaxes muscular aches and aids in sore joints. Other ingredients include Phytic and Ferulic acid as well as Rosehip seed oil - integral for firming and reducing the appearance of fine lines, brown spots and scars. The All In One Oil also is made with pure rice bran oil, organic sunflower, avocado, black cumin, Jojoba, lemon and purple coneflower oils. The resulting blend has a fan base with users using it to treat sunburns, flaky scalp, joint pain and even as shaving oil. Its versatility makes it an ideal choice in a time of overwhelming choice for products that are ethical and actually deliver real results.
"For two years, I battled with dermatitis. Under the care of a dermatologist, using various creams and lotions, nothing worked." says Peter, a PRĀZ customer. "I was introduced to PRĀZ's All In One Oil and thought it couldn't hurt to give it a try. Within two weeks of using the All In One, I have experienced better results - no itching, no flakes, no burning - than I have in the past two years. In the time I have been using PRĀZ, I could not be happier with the results."
The All In One has received the "Best Multi-Tasking Eco product" Award from the 2020 Beauty Shortlist Awards. As with all Prāz Naturals products, the oil is formulated with 100% USDA certified organic ingredients and is G.M.O. Free, synthetic-free, paraben-free and cruelty-free. With its one small bottle users of the All In One Oil can save time, money and deliver less stress on their skin resulting in a minimalist routine for maximum gain.
About PRĀZ Naturals
PRĀZ Naturals offers a skincare routine worth celebrating and only gets better as they continue to explore and discover powerful plant-based ingredients. With a foundation built on appreciation, wellness and a commitment to the environment – PRĀZ ensures responsible business practices and manufactures every product by hand. The ultimate goal is to source and share their products in a way that honors humans, animals, and the planet.