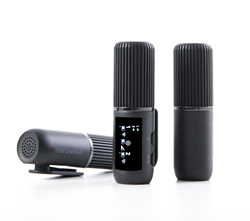 "With Thronmax Space, its ultra-compact design makes it more practical to use than any other microphone I have used before."
JERSEY CITY, N.J. (PRWEB) May 08, 2023
Audio issues such as background noise, static, low volume, and other similar problems, are frustrating for content creators, streamers, and anyone who needs to have clear audio for their recordings or live streams. Launching today, Thronmax Space ensures the best sound quality without any interruptions!
Thronmax Space is a wireless microphone system that offers users versatility and portability. This microphone kit comes with a primary condenser microphone that captures ambient sound and speech, along with two lightweight omnidirectional lavalier microphones that can easily be attached to clothing or mounted on a tripod or camera to capture clear, natural audio. With Thronmax's proprietary Series IV digital wireless technology, users are provided with unparalleled sound quality, which eliminates bottom sound noise, ensures top-notch audio transmission, zero latency, and a long battery life of up to eight hours on a full charge.
Thronmax has received the iF Design Award in 2021 and 2022 for their products Thronmax Wireless Air, Thronmax StreamMic, Thronmax MDrill One Microphone and Thronmax MDrill Zone. The iF Design Award is one of the most prestigious design awards worldwide. The company has also been named as a RedDot Winner in 2020 and 2021 for Thronmax MDrill Zero, Thronmax Pulse, and Thronmax MDrill One. The Red Dot Design Award is one of the world's largest design competitions.
The compact, award-winning design and true instant wireless connectivity make Thronmax Space easy to set up and user-friendly. Whether someone is recording in a studio, outdoors, or in a conference room, Thronmax Space can provide clear and high-quality audio in various environments and conditions.
According to Fortune Business Insights, the global wireless microphone market is projected to grow from USD 1.72 Billion in 2022 to USD 3.29 Billion by 2029. With the increasing number of musicians, content creators, and public speakers, Thronmax Space is here to make everyone sound great with zero latency. Plus, with an increase in remote workers, people are looking for an everyday microphone for meetings and interviews.
"I've always struggled with my recordings from the built-in mic on my laptop, and my normal mic always caused static," says CEO Hasan Turgut. "With Thronmax Space, its ultra-compact design makes it more practical to use than any other microphone I have used before."
Thronmax Space supports all platforms, including DSLR cameras and all portable devices, including PC, Mac, and iOS platforms. Thronmax's proprietary Series IV 2.4GHz digital wireless technology allows for an instant connection to any device and top-notch audio transmission. Thronmax Space offers users a fully wireless microphone with a seamless connection, providing crystal-clear sound quality regardless of location or conditions. To preorder, visit pr.go2.fund/thronmax.
About Thronmax
Thronmax is a European-owned and operated company that creates professional audio products for the music recording, broadcast, post-production and streaming markets. Their variety of condenser microphones offer the best solutions for studio, USB, podcast, video conferencing and field recording. With high-quality sound, technology and design, Thronmax continues to lead the international audio space with the launch of their newest product, the Thronmax Space. For more information, visit https://www.thronmax.com/.