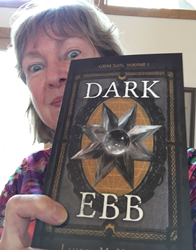 "One thing's for sure--I'll never run out of ideas!"
SALIDA, Colo. (PRWEB) August 28, 2020
"One of my goals as an author is to write and publish in multiple genres. This book is different from all of my previous works," said Laurel McHargue.
McHargue is the author of the award-winning young adult Waterwight series as well as books about teaching, hunting, fairy tales, and haiku poetry.
When asked how she was inspired to create this unusual collection, McHargue said, "I started entering short story contests, and the first one required me to write a horror story. I shared it with my husband when I finished it, and he suggested he might sleep in another room that night, so I guess I was successful! After that first story, I was hooked on writing horror and surreal stories."
McHargue's book DARK EBB: Grim Tales is a collection of 19 short stories, each with a sketch by the author, and features stories with "macabre situations, dark humor, bizarre and surreal occurrences, horror, Greek gods, ghosts, and other supernatural elements, as well as romance gone awry and poignant stories with intricate family dynamics."
The Colorado Independent Publishers Association (CIPA) EVVY Awards receive entries from around the globe every year. This year's award ceremony will take place virtually on September 10, 2020.
"I'm excited about this first volume of short stories and plan to continue writing in this genre as well as others," said McHargue. "One thing's for sure--I'll never run out of ideas!"
Laurel McHargue lives and writes and hosts the podcast Alligator Preserves. She also raises ducks. Follow her on her website and find her on social media. Her books are available on Amazon and from Ingram in e-versions and paperback.