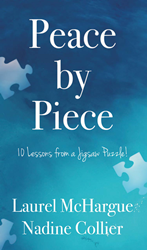 There's a great balance between contemporary wit and professional wisdom in each chapter
SALIDA, Colo. (PRWEB) September 09, 2020
When author Laurel McHargue completed her first 2,000-piece jigsaw puzzle, her friend Nadine Collier, a licensed professional counselor, suggested she should write a book about lessons she learned from the experience.
"I was never a puzzler," said McHargue, "and the idea of writing about my struggles and ultimate success intrigued me. I started the monster puzzle--the first one I've ever done on my own--during a period of quarantine at the start of the pandemic."
McHargue convinced Collier to collaborate with her, and together they completed and published Peace by Piece: 10 Lessons from a Jigsaw Puzzle! , a "fresh exploration of timeless life lessons."
"Many of my clients are struggling with anxiety and loss of motivation during this pandemic," said Collier, "and this book provides proven techniques for overcoming life's daily challenges. There are more than ten lessons in its pages, and a lot of humor, too."
"There's a great balance between contemporary wit and professional wisdom in each chapter," said McHargue. "We embellish our work with quotes from renowned sources from the past and present, and relevant stories from people we know."
The following chapters start with helpful life lessons McHargue discovered while puzzling and end with Collier's reflections and questions for consideration:

Patience and Persistence
Time Matters
Walk Away!
The Sum of Our Parts
The Little Things
Help?
Focus
A Different Perspective
Look Below the Surface
Celebrate!
"You don't have to be a puzzler to appreciate this book," said McHargue. "The lessons we share are applicable to any challenges readers might face in times of pandemic and, hopefully, beyond."
Laurel McHargue lives in Salida, CO, where she writes in multiple genres and hosts the podcast Alligator Preserves. She also raises ducks.
Nadine Collier lives in West Michigan, where she provides counseling services and enjoys boating on the Great Lakes with her husband.
McHargue and Collier would like to thank Mark Lumb for interviewing them about their book on his Jigsaw Chill Zone YouTube channel.