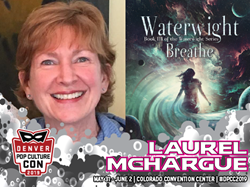 The books may challenge middle grade readers . . .
LEADVILLE, Colo. (PRWEB) March 12, 2019
"Last year's Denver Comic Con was eye-opening," said McHargue, who was a first-time attendee in 2018. "Thousands of enthusiastic readers and pop culture aficionados streamed through the Convention Center and engaged with hundreds of artists, authors, vendors, and TV and film personalities. What a joyful experience!"
McHargue will attend this year's event – renamed Denver Pop Culture Con – and will have new offerings for fantasy lovers.
"I completed the Waterwight trilogy with my third book: Waterwight Breathe. The Waterwight series started with a crazy dream and became a story that kept my imagination busy over the past several years."
A former Language Arts teacher, McHargue kept students and teachers in mind while writing. "The books may challenge middle grade readers, so I added synonym glossaries at the end of each book and questions for discussion aimed at helping teachers plan lessons."
The series follows a strong female character, Celeste, in her quest to discover what shattered the planet, leaving her an orphan and releasing bizarre creatures and powers.
"I'll also bring an exciting new graphic novel." McHargue said that artist Becky Jewell is creating a graphic novel based on McHargue's short story "Crow Magnum." Jewell provides a "Sneak Peek" of her artwork for the story on her website.
"I started writing short stories for my podcast Alligator Preserves and I love the genre. I may even have a short story collection ready for Denver Pop Culture Con," said McHargue. "One of my goals as an author is to publish in many different genres. I love the challenge!"
Laurel McHargue, a 1983 graduate of the United States Military Academy at West Point, lives and writes and plays in the Colorado Rocky Mountains.