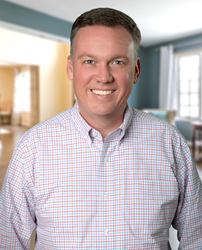 TruBlue works with homeowners in ways that can make a real difference in their lives, whether it's one project or with our House Care Plus program. We are here to help people love their homes. - Brian Sacco
CHARLOTTE, N.C. (PRWEB) January 21, 2020
Experienced business owner and service industry professional Brian Sacco is pleased to announce the launch of his new local business – TruBlue of Charlotte.
TruBlue is a full-service company that provides professional handyman, maid, lawn and seasonal services that are perfect for busy families, seniors and anyone who wants the comforts of their own home without worrying about critical property maintenance. TruBlue of Charlotte serves Uptown, Myers Park, Cotswold, Elizabeth, South End, South Charlotte and the surrounding areas.
"It can be challenging to find someone you trust to do work on your home and, when you do find someone, you want them to be able to provide consistent, comprehensive service. That's what we do at TruBlue. We want to be your family's dependable resource for anything house care related and, if you need a service we can't provide, we have a trusted network of partners who can help," Sacco said.
While TruBlue can be hired for individual projects, the company offers a unique monthly House Care Plus program, which enables clients to hire TruBlue to provide regular, monthly maintenance. TruBlue also works with homeowners, realtors and rental property owners who need to quickly get homes move-in ready and keep them maintained, and has commercial services for business clients.
Prior to TruBlue, Sacco owned the local Shelf Genie franchise, which he grew and then sold a few years ago. During his time as the owner of Shelf Genie, he won multiple service-industry awards such as the Angie's List Super Service Award. Sacco is looking forward to using his service industry background and experience working with homeowners to make TruBlue successful.
"I enjoyed working in the service industry and helping homeowners as the owner of Shelf Genie, but when we received an offer to buy the franchise, I took the opportunity to spend some time with my school-age children, Carson and Connor. When I started looking for the next opportunity, I knew what I wanted to do and I found it with TruBlue," Sacco said. "TruBlue works with homeowners in ways that can make a real difference in their lives, whether it's one project or with our House Care Plus program. We are here to help people love their homes."
TruBlue of Charlotte is licensed, bonded and insured. To learn more about TruBlue of Charlotte, call 704-323-3713, email BSacco@TruBlueHouseCare.com or visit http://www.TruBlueHouseCare.com/Charlotte.
About TruBlue
TruBlue provides one convenient and affordable solution for all your house care needs – inside and out. TruBlue's services include house cleaning, household repairs, yard work, emergency repairs, seasonal work and preventative maintenance all handled by a personal House Care Manager. These affordable services are available year-round and customized to meet your needs and budget. TruBlue strives to provide affordable, worry-free living for seniors and hassle-free living for busy adults by providing full-service, trustworthy house care services. TruBlue even offers owners financing for the larger remodeling and property projects. Watch for TruBlue to the Rescue projects which are designed to reach out to neighbors in need of volunteer assistance.