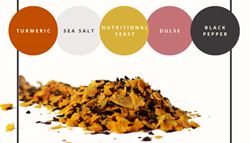 We've replaced salt with a better salt!
CAPE MAY, N.J. (PRWEB) August 26, 2020
James Beard-nominated chef Lucas Manteca has launched Smart Seasoning: A vibrant blend of crunchy sea salt with superfood ingredients that add protein, fiber, antioxidants, vitamins, and minerals with every shake and sprinkle.
This nationwide launch follows a successful Kickstarter campaign that raised $15,000 in less than 30 days. Smart Seasoning Yellow Blend can now be purchased online with free shipping throughout the U.S.
Smart Seasoning is natural, vegan, gluten-free, and has no additives, preservatives, MSG, GMO, or sugar. The Yellow Blend is a workhorse for everyday use that can easily replace table salt and salt used in cooking dishes like chicken, eggs, vegetables, and avocado toast. Each serving comes with fiber, protein, thiamin, vitamin b12, potassium, iodine, iron, manganese, and antioxidants.
Yellow Blend Ingredients:
Maldon Sea Salt: All-natural, crunchy flakes from a 135-year-old family-owned English salt works that adds just the right amount of saltiness to food.
Turmeric: A golden yellow spice, used to make bright dishes, that contains a powerful antioxidant and anti-inflammatory called curcumin.
Nutritional Yeast: A vegan cooking staple that contains protein, vitamins, minerals, and antioxidants that can help lower cholesterol and boost immunity.
Dulse Seaweed Flakes: Rich in calcium, potassium, and antioxidants, dulse helps to lower blood pressure, improve eyesight, and enhance the health of the thyroid gland.
Black Pepper: Helps the body's absorption of curcumin, the active compound in turmeric.
Argentina-native Lucas Manteca is a celebrated chef who has cooked around the world — including at Blue Hill at Stone Barns (New York), Martin Berasategui (Spain), and Fat Duck (UK) — and has made appearances on Food Network. Manteca and his wife Deanna Ebner own and operate four restaurants in New Jersey, including The Red Store in Cape May Point.
Manteca and Ebner initially created Smart Seasoning to boost the nutritional value of their young daughter's meals. Their friends and family loved it and the health-conscious couple began using it at their restaurants. When the pandemic forced their restaurants to close, they pivoted to release Smart Seasoning — a product perfect for home cooking — to the public.
"As a chef, I know that salt can make or break even the simplest dishes," said Lucas Manteca, Founder of Smart Seasoning. "Deanna and I love that Smart Seasoning is good for us while making our food delicious. We've replaced salt with a better salt and can't wait to share our creation with home cooks everywhere!"
Smart Seasoning is made in small batches in Manteca's test kitchen at The Red Store in Cape May. As environmentalists, Manteca and Ebner have committed to using sustainable packaging materials for Smart Seasoning, including a 5-ounce glass jar and 8-ounce fully biodegradable refill pouches made out of rice paper.
In September, Manteca will release the Black Blend. With hints of mushrooms, organic coffee, cayenne, and seaweed, this blend is meant to season grilled, roasted, and pan-seared proteins and vegetables. Two more new blends will be released in the coming months.
Smart Seasoning can be purchased online at http://www.smartseasoning.com and can also be found at The Red Store.
Recipes
These recipes, created by Chef Manteca's team, may be used in coverage:
Salted Tahini Berry Smoothie
Vegan Caesar Salad Dressing
Smart Seasoning Onion Rings
ABOUT LUCAS MANTECA
Born in Argentina, Lucas studied hospitality management in Buenos Aires before his love of surfing drew him to Costa Rica. There, he opened his first restaurant at the age of 21, and he met his wife Deanna Ebner, a New Jersey native. The couple settled in New York City where Lucas attended the French Culinary Institute. Lucas has spent time in some of the most acclaimed kitchens in the world, including Blue Hill (New York), Martin Berasategui (Spain), and Fat Duck (UK).
Besides his 2014 James Beard nomination, he has been named Local Food Hero by Edible Jersey (2018) and was named to Atlantic City Weekly's Forty Under 40, among many other accolades. His four South Jersey restaurants form Bread+Butter Restaurant Group.
In his free time, Lucas is an avid surfer, and loves spending time at the beach with his wife, daughter, and two chihuahuas.