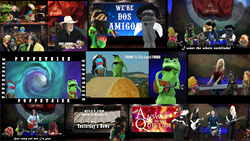 A TWISTED TALE GONE WRONG
NASHVILLE, Tenn. (PRWEB) August 18, 2020
Nashville hit songwriter, ACM award winning performer and former front man of the Gibson/Miller Band, Dave Gibson, has announced the scheduled launch of The Waterhole Bunch, a new, musical entertainment show set to premiere Monday, August 24, 2020 on ROKU TV Worldwide (SPYDAR TV and Kartoon Funtime TV). Hosted by animated puppet characters, the show premise is a colorful combination of Laugh In, Jimmy Fallon, Saturday Night Live and Mystery Science Theatre, and will spotlight guest interviews and artist performances from the Waterhole Stage. Upcoming shows will feature special appearances and performances by Johnny Garcia (Trisha Yearwood and Garth Brooks' lead guitarist,) Anthony Krizan of Spin Doctors fame, hit songwriter Becky Hobbs, Nashville up and comers Liv Noelle, and of course Gibson and the puppets. Watch a Sneak Peek
Created by Gibson alongside award-winning songwriter Cheryl DaVeiga, The Waterhole Bunch was produced by Mark Dreyer and Waterhole Productions and delivered in association with http://www.voyageairguitar.com.
"It all started with a song that turned into a twisted tale gone wrong," Gibson said. "The idea became larger-than life and turned into a fun, comedic live entertainment production with puppets and humans making music and mayhem. It's a show the entire family can enjoy." Watch Gibson sing the Frog Song
AIR DATES
During the week of August 24, 2020, the show will air Monday through Sunday beginning at 6:30PM CT/7:30PM EDT.
Beginning Monday, August 31, 2020, the show will re-air Monday through Sunday at 2PMCT/3PM EDT and thereafter (beginning Friday, September 11, 2020) the program will broadcast weekly each Friday evening at 6:30PMCT/7:30PM EDT (via ROKU TV Worldwide channels-SPYDAR TV and Kartoon Funtime TV). Check local listings.
SPYDAR TV and Kartoon Funtime TV are broadcast on ROKU TV, SumulTV, AiryTV, MDX TV (India), Hedex TV (Hungary) and KVVB TV (Victorville, CA) and available via Apple mobile devices. Distribution by MorcaMan Productions. Additional broadcast distribution outlets are currently in the works.
THE PRODUCTION TEAM
Dave Gibson is a renowned Nashville hit songwriter. As former front man of the Gibson/Miller Band, the ACM award- winning performer wrote the band's hit songs as well as No. 1 hits and chart-toppers recorded by Alabama, Confederate Railroad, Montgomery Gentry, Tanya Tucker and Joe Diffie.
Cheryl DaVeiga is an ASCAP award winning songwriter who has enjoyed cuts by NJ Blues Hall of Famer Eryn Shewell O'Ree, Anthony Krizan, and Christine Martucci. She also penned the featured song of the recent State of Alabama Bicentennial celebration as well as the theme song for the non-profit organization Where Angels Play. Cheryl also performs and writes children's songs under the name CADi Grace.
Mark Dreyer (Mark Dreyer Productions Studio.) is an acclaimed Nashville-based guitarist, performer, singer/songwriter, audio/video producer and editor.
MORE ON THE WATERHOLE BUNCH
https://www.youtube.com/c/TheWaterholeBunch
https://www.facebook.com/thewaterholebunch
https://www.instagram.com/thewaterholebunch/
https://www.rokuguide.com/channels/kartoon-fun-time
https://www.rokuguide.com/channels/spydar-tv
http://nashvilleconnection.com/md-productions/about-mark-dreyer
PRODUCTION CONTACTS
Waterhole Productions
Cheryl DaVeiga • thewaterholebunch@gmail.com
http://www.thewaterholebunch.com
Mark Dreyer Productions
Mark Dreyer • MarkDreyer65@gmail.com
http://www.NashvilleConnection.com
MEDIA CONTACT
Music City Media
Kat Atwood • katwood@musiccitynews.com