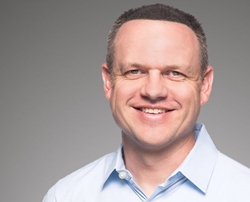 I could not be more honored to join the Shmoop team at this exciting time and contribute my efforts toward the goal of providing comprehensive, accessible, high-quality and engaging educational content to learners of all ages
PHOENIX (PRWEB) June 24, 2019
Shmoop, the award-winning digital publisher providing comprehensive test prep resources and certified online courses, has announced that Andy Rahden has been named the company's new Chief Executive Officer. Under Rahden's leadership, Shmoop, whose online resources are used by 16 million teachers and students each month, will embark on new initiatives to upgrade the user experience and enhance content development.
"I could not be more honored to join the Shmoop team at this exciting time and contribute my efforts toward the goal of providing comprehensive, accessible, high-quality and engaging educational content to learners of all ages," said Rahden. "I've had the chance to spend my career working on two of my passions, digital learning and educational technology, and I'm grateful for this tremendous opportunity to continue my career with Shmoop, a company I've long admired. As I get started in this role, I can't wait to get started on our new initiatives and for educators and students across the country to experience our upcoming enhancements and rollouts."
Over the past several years, Rahden has led a number of successful business units and initiatives charged with improving customer success and content development across multiple companies, making him uniquely suited for the head role at Shmoop. Most recently, he was the Vice President of Pluralsight's Creative, Design, and Engineering business unit, which produced nearly half of Pluralsight's content, including more than 3,500 online video courses. He is passionate about democratizing education and built teams at Pluralsight from the ground up to forge strategic partnerships and create a world-class customer experience.
Also with Pluralsight, he had roles leading content production, sales, marketing and support, built and led the Pluralsight customer success organization, and contributed to the company's growth through its 2018 IPO. Rahden's experience with customer experience initiatives also extends to his time at Autodesk, prior to Pluralsight, where he led the units responsible for customer engagement, product feedback, and obtaining quarterly and yearly growth targets. His teams drove approximately half of Autodesk's revenue streams, as well as the end-to-end customer experience.
Rahden takes over as Shmoop CEO from Ellen Siminoff, who founded the company along with her husband David in 2008 and has served in the chief executive role since that time. With Ellen as CEO and David as Chief Creative Officer, the company has grown from its modest beginnings with a number of book study guides posted online to a comprehensive digital publisher that ranks among the most prominent education content providers in the United States. Shmoop currently has contracts with more than 1,200 school districts to provide test prep and digital curriculum, and according to the 2017-18 LearnPlatform Edtech Top 40 report, Shmoop is used in 13 percent of all schools nationwide, ranking as the seventh most widely-used of all tools in the "content" category. Both Ellen and David Siminoff will continue to serve as board members and key contributors to the Shmoop leadership team.
"We're thrilled to have Andy Rahden joining Shmoop as the company's new CEO," said Ellen Siminoff. "Andy has a unique blend of experience leading successful customer success and content production initiatives, making him the ideal candidate to take the reins at Shmoop and lead us into new opportunities as we move forward into our second decade. We're excited to see what lies ahead as we continue in our mission of providing excellent, engaging content to students across the nation."
Shmoop offers hundreds of thousands of pages of original content, designed for everyone from elementary students through college degree-holders who are looking to advance in their profession. The content includes hundreds of full courses for grades 3 through 12, encompassing both core subjects and electives; the most comprehensive suite of test prep materials available through any provider, including content on every Advanced Placement exam; and more than 10,000 videos covering everything from math, science and literacy to life skills and career readiness. As part of Rahden's initial work, he will focus on furthering the value Shmoop provides to educators and schools by upgrading the user experience and enhancing content development. This will include the following efforts:

Enhancing the curation and accessibility of Shmoop content through written and video content, as well as a variety of other forms of learning.
Building the content library to focus on the "needs of the now" for students, but also for the skills students will need for their future careers and beyond.
Democratizing learning by improving accessibility to information that will increase students' ability to learn the skills necessary to achieve progress faster and more affordably.
Providing states, districts, schools, principals, teachers, parents and individuals more accessibility through an improved purchasing and product integration experience.
Shmoop works with schools across the nation and its online content is viewed more than 48 million times per month. To learn about the company's comprehensive digital curriculum and test prep offerings, including how to purchase a license for a classroom, school or district, visit https://schools.shmoop.com/.
About Shmoop
Shmoop offers hundreds of thousands of pages of original content. Its Online Courses, Test Prep, Teaching Guides, Learning Guides, and interactive Study Tools are written by teachers and experts and balance a teen-friendly, approachable style with academically rigorous concepts. Shmoop sees 16 million unique visitors a month across desktop and mobile. The company has won numerous awards from EdTech Digest, Tech & Learning, and the Association of Educational Publishers. Launched in 2008, Shmoop makes the magic happen from a labradoodle-patrolled office in Mountain View, California (http://www.shmoop.com).