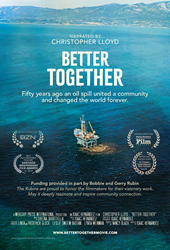 Fifty years ago an oil spill united a community and changed the world
LOS ANGELES (PRWEB) October 14, 2019
In times of disaster, people naturally come together, breaking barriers and uniting communities. "Better Together" (2019, 47 min.) looks at how disasters in Santa Barbara, California, from the 1969 Union Oil blowout to last year's deadly fires and debris flow, have not only united people, impacting local culture, but also resulted in the generation of new organizations and solutions for wider and even global impact.
Christopher Lloyd's comforting voice ("Back to the Future", "Over the Garden Wall") presents a journey of activism and courage over decades. The story, told by local heroes as well as international environmental leaders, leaves viewers inspired and ready for action.
"It's amazing to learn what people generated from the tragedy of the 1969 Santa Barbara oil spill," says SoCal-born producer Nancy Black, who grew up on a sailboat in San Pedro harbor, surrounded by oil refineries. "The community came out to the beaches to try to save oiled birds and wildlife, they protested and wrote petitions. A year later we had the National Environmental Policy Act and the Environmental Protection Agency… and then Earth Day and the UCSB Environmental Studies Program. And people have continued to fight for over 50 years. This story had to be told. These pioneering voices and lessons need to be heard."
"In working on this film, I went on a personal journey from despair about the effects of climate change to being inspired and called to action," says first-time director Isaac Hernandez. "Witnessing the community come together after the 2018 Montecito debris flow, and seeing how my adopted city has been fighting for over half a century to make the world a better place brings me hope for the entire world."
Historical Background: Birth of the Modern Environmental Movement
The catastrophic effects of four million gallons of oil spilling on the ecologically rich Santa Barbara Channel for most of 1969 changed Santa Barbara forever, and ignited a global shift that resulted in new laws and protections for environmental health. The effects of the 1969 oil blowout were felt across the world, inspiring Earth Day, the National Environmental Policy Act, the Clean Air Act, Clean Water Act and Endangered Species Act.
A Story by Activists
Santa Barbara is rich with community organizations providing practical solutions. The oil spill inspired the birth of a host of environmental organizations, including the Community Environmental Council and the Environmental Defense Center (the first nonprofit legal service for the environment), and the creation of the first interdisciplinary Environmental Studies program (at University of California, Santa Barbara).
"Better Together" features activists from these and other nonprofit organizations like Gaviota Coast Conservancy, Santa Barbara Channelkeeper, as well as the Santa Barbara Bucket Brigade, which gathered over 3,000 volunteers to dig homes and trees out of the mud.
Direct Relief's President and CEO Thomas Tighe, who survived the 2018 debris flow, shares their story, as well as California thinkers and scientists like oceanographer Sylvia Earle, Paul Ehrlich (author of "The Population Bomb") and Solution Project's founder Mark Jacobson.
Director Isaac Hernández offers a poetic and hopeful look at what's possible at a global level through local action, featuring many solutions generated in Santa Barbara, from the birth of curbside recycling to the first micro-grid in the continental United States at Direct Relief's headquarters.
Funding for the film was provided in part by Bobbie and Gerry Rubin. Executive Producers Lynda Weinman (Diving Deep, 2019; The Tale, 2018; Unrest, 2017), Leslie Bhutani (Lutah, 2014) and Linda & Frederick Gluck brought this story to light, with support from Associate Producers, the Zegar Family Fund.
"Better Together" will screen at LA Femme International Film Festival on Oct 18 at 2pm at the Regal Theater, LA Live, 1000 W. Olympic Blvd, LA, CA 90047 (get tickets for LAFemme IFF), and at the Santa Barbara Surf Festival on November 9 at 12:40 pm at the Arlington Theater, 1317 State Street, Santa Barbara, CA 93101 (get tickets for SB Surf FF).
Awards and Festivals
"Better Together" won a Best Documentary Feature from Santiago Independent Film Awards. It was also a finalist for the Ted Turner Prize for the film that best expresses environmental stewardship, after screening at the 2019 Bozeman International Film Celebration. After its world premiere at the Santa Barbara International Film Festival, 50 years after the oil blowout, the documentary will return to Santa Barbara for a screening at the historic Arlington Theater as part of the 2019 Santa Barbara Surf Film Festival, on November 9th at 12:30pm.
A Labor of Love
Producer Nancy Black and director Isaac Hernández (Madrid, Spain) have more in common that love for film. Husband and wife, they co-founded Mercury Press International in Santa Barbara in 1991. Their film offers a poetic and hopeful look at what's possible at a global level through local action, featuring a selection of inspiring solutions. It's a love letter for community.
About the producer
Nancy Black writes a daily horoscopes column syndicated by Chicago Tribune. She produces films and books with Mercury Press International and serves on the boards of Gaviota Coast Conservancy, Committees for Land, Air Water and Species (CLAWS) and The Israel Palestine Project. She was president of the Pesticide Awareness and Alternatives Coalition that produced the California Organic Festival and successfully campaigned to dramatically reduce the use of pesticides in Santa Barbara's public parks and schools.
About the director
Isaac Hernández came to America from Madrid, Spain to study film at Brooks Institute of Photography. His career has included photography, journalism, painting and writing plays, before returning to produce short films for nonprofits, and finally directing his first feature. He's working on a memoir about the impact of censored American films during his childhood in Franco's Spain, and a film honoring the 50th anniversary of UCSB's Environmental Studies Program. http://www.isaachernandez.com
About Mercury Press International
When co-founders Nancy Black and Isaac Hernández created Mercury Press International, they dreamed of making films together. After decades providing stories and photographs to over 300 publications in 27 countries, including National Geographic Traveler, ESPN, Focus, and Stern, Mercury Press International now focuses on film and book production. Recent book titles include "In Love With Earth" by environmental elder Marc McGinnes and "The Art of Symeon Shimin." They're also working on a film on the first 50 years of the UCSB Environmental Studies program.
Twitter: https://twitter.com/be2getherfilm
Facebook: https://facebook.com/BetterTogether
Instagram: https://instagram.com/BetterTogetherFilm
Trailer: https://vimeo.com/312179566