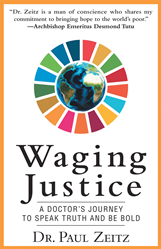 BETHESDA, Md. (PRWEB) February 11, 2019
A healer by profession, Dr. Paul Zeitz has channeled his efforts beyond medicine as chronicled in his compelling new memoir "Waging Justice: A Doctor's Journey to Speak Truth and Be Bold" which details his lifetime of hard-won lessons as a doctor, activist, husband, father and son. Dr. Zeitz invites readers to join him during his complex dance between healing others and healing himself, which ultimately transforms the inexplicable anger and disappointment he felt at the state of the world and his own past into full throttled, open-hearted, soul-satisfying action set on a global stage.
As an award-winning advocate for global justice and human rights, "Waging Justice" presents itself as a source of inspiration behind Dr. Zeitz's efforts to "Build A Movement 2020," which aims to bring urgency to bold action by people around the world to help achieve climate smart sustainable development, climate and ocean restoration; gender equality; revitalize American democracy; end AIDS; advocate for universal health care; and end child sexual abuse and incest—to usher in a more just and peaceful world.
"I believe that we have the opportunity to work together in new and different ways, to challenge the status quo, to bridge the divides and find innovative solutions to urgent local and global crises and challenges," said Dr. Zeitz.
Dr. Zeitz has worked with an extensive and impressive list of well-known activists and leaders around the world who have praised him for sharing his personal story as well as for his advocacy achievements. Leaders with who Dr. Zeitz collaborated include Archbishop Emeritus Desmond Tutu, Elie Wiesel, Graça Machel, Bono and Alicia Keys.
"I've known Paul since 2001 when we first teamed up in the global fight against HIV/AIDS, and we've worked together ever since. I'm moved by the backstory in Waging Justice, as Paul inspires me with his courage and tenacity. Put the biggest boulder in the path of the ambitious, stubborn, and hardworking Dr. Paul Zeitz and you can be sure he'll find a way around it. If not over it, under it, or around it, he'll grab a jackhammer and pound right through it. Paul is a driving force in ending the epidemics of AIDS, poverty, and sexual abuse that are raging through the world. Paul brings his can-do spirit to everything he does, including fighting for justice. This is a book you want to, no, you have to read. Dr. Zeitz's voice should be heard by everyone."– Alicia Keys
"Waging Justice is a deeply personal story of courage and compassion with global implications. This heartfelt memoir shows how a doctor with vision can help fix what's broken in our world. Dr. Zeitz is a man of conscience who shares my commitment to bringing hope to the world's poor. Please read Waging Justice. You won't regret it!" —Archbishop Emeritus Desmond Tutu
"In a world of searing injustice and glaring inequality, Dr. Paul Zeitz is a reminder that love, truth, and compassion remain the strongest forces on earth. His story is inspiring, challenging, and hope-restoring. I hope Waging Justice is read widely and his example is emulated more widely still. With people like Dr. Zeitz on our side, achieving the Sustainable Development Goals (SDGs) is not just possible, it's distinctly probable." – Dr. Tedros Adhanom Ghebreyesus, Director-General, World Health Organization
A personal and universal story of action, courage and forgiveness, Dr. Zeitz presents his vital rallying cry to wage justice in people's lives, speak the truth, be bold and serve justice for all. All proceeds from the sales of his book being donated to sustainable development. To learn more about Build A Movement 2020, please visit http://www.drpaulzeitz.org.
"Waging Justice: A Doctor's Journey to Speak Truth and Be Told"
By Dr. Paul Zeitz
ISBN: 9781982205423 (softcover); 9781982205447 (hardcover); 9781982205430 (eBook)
Available at the Balboa Press Online Bookstore, Amazon and Barnes & Noble
About the author
Dr. Paul Zeitz is a physician, an epidemiologist, and a tenacious, energetic, award-winning advocate for global justice and human rights. He has dedicated his career to catalyzing large-scale global impact and serves as the co-founder of SDG Compacts and the Sustainable Development Games at the Global Development Incubator and the U.S.A. Focal Point for Action for Sustainable Development, a global social movement. Dr. Zeitz has fought for human rights, equal opportunity and justice for all from both inside the United Nations and the American Government where he worked for the Obama and the Trump Administrations from 2014-2017 as the Director of the Data Revolution for Sustainable Development at the U.S. Department of State as well as being an outside activist holding the government accountable. He received his Doctor of Osteopathic Medicine from the Philadelphia College of Osteopathic Medicine and Masters of Public Health and Preventive Medicine Residency at Johns Hopkins University Bloomberg School of Public Health. He currently resides in Bethesda, Maryland with his wife of 27 years, Dr. Mindi Cohen, and they are the proud parents of five sons. To learn more: http://www.drpaulzeitz.org
General Inquiries:
LAVIDGE – Phoenix
Bryan Beach
480-306-6554
bbeach (at) lavidge (dot) com