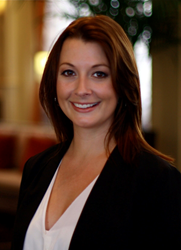 I look forward to offering owners and developers access to the knowledge that I have acquired to protect their budget while creating future award-winning properties.
WASHINGTON (PRWEB) August 31, 2020
Award-winning thought leader, speaker and consultant in the hospitality space, Ashley Ewing Parrott announced today the launch of Ashley Ewing Parrott Consulting, a full-service consulting agency for full- and limited-service hotel properties worldwide. With nearly a decade of hospitality industry experience, Parrott most recently served as Director of Brand Management for Marriott International's newest family of independent hotels, Tribute Portfolio, where she applied a consistent creative brand marketing and management approach to boutique properties across five continents.
According to a recent article by McKinsey & Company, the pandemic has taken an enormous toll on the hotel industry; research suggests that some hotels may not fully recover to pre-COVID-19 levels until 2023 or later. Parrott's goal is to accelerate this recovery with the launch of Ashley Ewing Parrott Consulting. She will draw on her wide breadth of experience in the hospitality space to provide short- and long-term support to hoteliers impacted by the pandemic, better positioning them for success in a world during and post-COVID-19.
"As Director of Brand Management for Tribute Portfolio Hotels, I saw firsthand the effects of COVID-19 on hotels' ability to effectively execute brand management and marketing strategies, particularly given the vast number of layoffs and furloughs within the industry," said Parrott. "Messaging and brand positioning will be more important than ever before. Perception is everything. I intend to fill a void in the hospitality consulting marketplace by partnering with hotels on an array of much-needed services that will benefit them well beyond this pandemic, including strategic brand and marketing consulting, guest experience evaluations, PIP assessments, interior and exterior styling, and more."
Parrott has a proven track record of working with hundreds of different hotel properties globally, across projects related to brand development, strategy and management, and interior design. In 2019, Boutique Design named Parrott as one of its "Up-and-Coming Hotelier honorees," its yearly roster of noteworthy designers and hoteliers in the hospitality industry.
Skills and services offered by Ashley Ewing Parrott Consulting include, but are not limited to:

Owner representation and hospitality management consulting;
Project management - disciplines include interior design and related consultants, creative agencies, procurement etc.;
Concept development, site selection and initial planning;
Brand development, management and strategy;
Affiliation and market positioning guidance;
Conversion assessments including PIP review and negotiation;
Art curation and procurement.
"There is an opportunity to offer the investment community a collaborative, cost-conscious and holistic approach to hotel development and operations. I view the process of conversions, renovations, new construction and openings with a bit of a different perspective," said Ashley Ewing Parrott. "Through my experiences working both on-property and above-property, as well as at Marriott International's corporate headquarters, I understand the lodging industry from all angles and look forward to offering owners and developers access to the knowledge that I have acquired to protect their budget while creating future award-winning properties."
Prior to her tenure at Marriott International, Parrott worked with Vision Hospitality Group, where she led the full service development from ideation to conception, as well as site planning, interior design, concept and brand development, project management, art curation, and sales and marketing for their boutique and lifestyle portfolio.
For more information, visit http://www.AshleyEwingParrott.com.