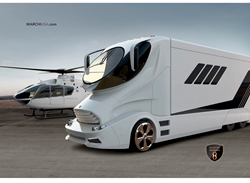 "Quite simply, this is one of the most extraordinary means of transportation we have ever seen, on land or in the air." - GQ Car Awards, in association with Michelin
MIAMI (PRWEB) October 21, 2019
MARCHI Mobile, a German-based company with a passion for creating luxury travel vehicles, introduces the MARCHI eleMMent to the sophisticated American travel market with four unique customization platforms – Mobile Mansion, Executive Mobile Office, Experiential Showroom, and Luxury Shuttle. The design philosophy behind the MARCHI eleMMent series goes far beyond what is typically considered in the automotive spectrum. For the first time, engineering and lifestyle concepts from an elite class of yacht builders, aviation companies, and Formula1 racing teams have been seamlessly brought together to create a vehicle that epitomizes the art of luxury travel.
The MARCHI eleMMent is the most luxurious mobile mansion in the world. It allows for the highest level of bespoke craftsmanship and appointments from around the globe, rewarding its owner the appropriate respite, no matter where they are. Being the most advanced of its kind it offers reduced fuel consumption and delivers outstanding aerodynamics. With only a few MARCHI eleMMents built each year the lead time per vehicle is 10-15 months. This length of time allows MARCHI's creative and engineering teams collaboration with the client to offer a one-of-a-kind experience.
The extravagance of the eleMMent is displayed by staircases leading to a retractable sky deck which unfolds at the swift push of a button. Fine craftsmanship is recognized in every detail and highlighted in the master suite embodying majestry with a luxury bed from HYPNOS, the Grand Court supplier for Buckingham Palace. MARCHI harmonizes authentic design features inspired from select partners in Monaco, Switzerland, and Dubai to name a few.
A recipient of the GQ Car Award, MARCHI accompanies renowned brands such as Rolls-Royce, Bugatti, Ferrari, McLaren, and Mercedes-Maybach. The eleMMent is named solely to the category of Best Flightless Private Jet .
"Quite simply, this is one of the most extraordinary means of transportation we have ever seen, on land or in the air." - GQ Car Awards, in association with Michelin
The eleMMent's carbon fiber cab is the most aerodynamic and environmentally friendly of its kind. The aviation configured cockpit allows the Pilot to operate instrumentation effortlessly on consoles much like a jet or helicopter. Other innovative components introduced to the automotive industry by the eleMMent include a powerful 600hp engine cooled from a redgold specialty grill, a super size rear diffusor, a 36-inch sport rim cover, and MARCHI's customized CAN bus system that directs a central platform to control all functions and vehicle information.
"As a unique series automobile manufacturer, MARCHI proves high performance and eco-friendliness can be aligned forces in creating the ultimate Class-A vehicles. There are only three remaining eleMMent builds this year which is generating great demand for the first to arrive in United States and incredible excitement ahead for the prominent new owners. " – Ronald Anduray, CEO MARCHI USA
About MARCHI USA
MARCHI USA, is the exclusive representative in America of MARCHI Mobile Holding AG based in Germany. MARCHI Mobile focuses on designing luxury vehicles for extravagant personal and business travel. Its primary affiliate outside of Europe is located in Miami, Florida. Learn more at http://www.MARCHIusa.com.
For press inquiries, images or videos:
MARCHI MOBILE
media@marchiusa.com
Telelephone +1 305.925.2452