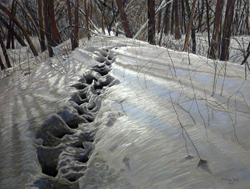 ROCKY RIVER, Ohio (PRWEB) April 01, 2019
After bringing 2018 to a successful close, Linda Gross Brown had her first award of 2019 when "Footsteps #14" won the Gordan Coe Dick Memorial Award at the Catharine Lorillard Wolfe Art Club's Annual Open Juried Exhibition in New York City.
Still in the first month of the year, Linda was announced as a finalist for The Circle Foundation's "Artist of the Year Award", placing in the top 150 artists out of more than 850 entrants.
In March she continued her strong beginning to 2019 when "Footsteps #15" was juried into the Academy Center of the Arts 2019 National Juried Exhibition.