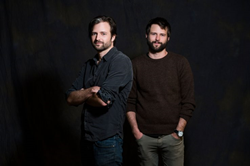 ORANGE, Calif. (PRWEB) May 17, 2019
WHAT: Matt and Ross Duffer, the 2007 Chapman University alumni who created the Netflix hit "Stranger Things," will deliver this year's commencement speech at Chapman. The Duffers' speech will kick off Commencement Weekend when the class of 2019 gathers for Closing Convocation, the all-University assembly where degrees are conferred and graduates participate in the ceremonial turning of the tassels.
WHEN: Friday, May 17, 2019 at 7-9 p.m. PDT (Duffer Brothers from approximately 8:05 – 8:25 p.m. PDT)
WHERE: Chapman University, Orange, Calif.
WHO: Matt and Ross Duffer ('07), award-winning creators of "Stranger Things," with season 3 beginning on July 4, 2019 exclusively on Netflix.
DETAILS: Although this is a sold out and ticketed event, photos and videos of the Duffer Brothers' Commencement speech will be available upon request. Please contact Lara Wyss at lwyss@chapman.edu for more information. The ceremony will also be webcast live, which can be viewed through Chapman University's official Facebook page.
The Duffers are 2007 graduates of Chapman's Dodge College of Film and Media Arts, where they collaborated on numerous projects, including the short horror film "Eater." In 2017, they returned to campus to receive the Alumni Achievement Award at the annual Chapman Celebrates gala. As part of the visit, they also met with students and shared insights about their filmmaking journey in a panel discussion before an overflow crowd.
About Chapman University
Chapman University is California's third largest private university and ranks fifth in the U.S. News & World Report listing of Best Regional Universities in the West. Chapman is categorized by the Carnegie Classification as an R2 "high research activity" institution and offers personalized education to more than 9,000 undergraduate and graduate students. Chapman strives for diversity and inclusion by recruiting and supporting students representing a variety of backgrounds, experiences, learning styles and unique talents. The campus has produced a Rhodes Scholar, been named a top producer of Fulbright Scholars and hosts a chapter of Phi Beta Kappa, the nation's oldest and most prestigious honor society. Founded in 1861 and based in the City of Orange, California, Chapman also includes the Harry and Diane Rinker Health Science Campus, 21 miles south in the Irvine Spectrum, Orange County's technology hub. In 2020, the university will open its 11th college, the Fowler School of Engineering in its newest facility, Keck Center for Science and Engineering.