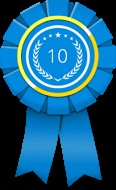 NEW YORK (PRWEB) December 20, 2018
Recently, 10 Best Design chose the winners of its Best Web Design Firm awards for December 2018, honoring Ruckus Marketing with the first-place prize.
Here's a summary of the firms that finished in the top three spots on the list of top website design firms of December 2018.
Ruckus Marketing, as it has many times in the past, finished in first place on the list of top website design firms. Although its hourly rate is comparatively high, it finished with a rating of 99 percent, a mark nothing short of 10 Best Design's experts' expectations.
Top web design agency Blue Fountain Media placed second in this category for December. The New York City firm bagged a 98-percent rating—even though its hourly rate is the lowest of the three candidates for the title of best web design firm.
SPINX Digital, a leading web design firm from southern California, finished in third place this month. It tied Blue Fountain with a rating of 98 percent.
This award category is significant due to its relevance to the industry. Although there are free content management systems like WordPress available on the Internet, the most successful businesses rarely use them because they look so much like others' websites. Considering the fact that just short of one-third of the entire World Wide Web is based on WordPress, it's easy to blend in with the rest of the crowd—even if such websites feature nothing but paid templates, of which there are hundreds of.
Some companies, organizations, individuals, and other business entities choose to pay professional website designers to craft custom websites on both the frontend and backend of their web pages. Although doing so is costly, it puts out higher-quality websites than trusting websites that are made from templates like WordPress. There's nothing inherently wrong with WordPress; businesses that need to stick out among the crowd of competitors in their line of work have their interests better served by having sites conformed specifically to their needs by having them constructed from the ground up.
Businesses, no matter how much capital they have, should always exercise due diligence in selecting what firms they choose to build their web pages. Failing to pick thoroughly vetted website builders can result in cybersecurity threats that put businesses at major risks of cybersecurity breaches.
In part, that is why the work of 10 Best Design is so important. 10 Best Design, based out of San Francisco, California, was created in 2012. Ever since then, 10 Best Design and its team of World Wide Web experts have ranked firms that design and develop websites alike. Countless businesses have turned to the rankings and reviews that 10 Best Design has published throughout the years. More recently, within the past 24 months, 10 Best Design has published extensive lists of the best web design firms in the business.
For more information about this month's winners, visit http://www.10bestdesign.com.