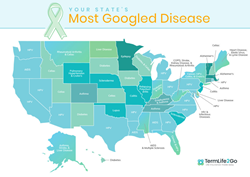 CHICAGO (PRWEB) May 30, 2019
Awareness is a goal for most disease-focused organizations, but is especially crucial for the Relapsing Polychondritis Awareness and Support Foundation (RPASF), which highlights a difficult-to-diagnose autoimmune disease that reportedly affects less than one to 3.5 people per million. Making a rare disease part of the public consciousness is a challenging feat, but thanks to RPASF's advocacy work, in conjunction with the ACR/ARP Annual Meeting, relapsing polychondritis became the most Googled disease in Illinois, according to TermLife2Go.
Nationwide, the most popular disease Googled and the number-one search in sixteen states was HPV, which afflicts 79 million Americans. Autoimmune conditions, like Lupus, diabetes, and Celiac disease were also frequently searched. However, relapsing polychondritis was by far the rarest disease to be Googled, and topped Google's most searched list in Illinois, suggesting that something unique was taking place in that state.
In October of last year, the ACR/ARP Annual Meeting was held in Chicago and attracted more than 15,000 rheumatology professionals from over 100 countries for the largest meeting of its kind. While there, medical professionals who traversed the exhibition hall couldn't help but notice the booths of two organizations: RPASF and the Canadian Society for Relapsing Polychondritis.
In conjunction with the ACR/ARP Annual Meeting, RPASF and Race for RP – the primary donor and an awareness campaign associated with RPASF, partnered with the American Autoimmune Related Diseases Association (AARDA) and the Allegheny Health Network (AHN) Autoimmunity Institute, to host a reception on October 20th which featured three distinguished speakers: Dr. Joseph Ahearn, Chair of the AHN Autoimmunity Institute, and Dr. Peter Grayson and Dr. Marcela Ferrada, RP researchers at The National Institute of Arthritis and Musculoskeletal and Skin Diseases (NIAMS) at the National Institutes of Health (NIH).
Dr. Ferrada, an RP patient and one of the world's foremost experts in relapsing polychondritis explained the unique challenges RP patients face. "We do not have a biomarker," she said, "meaning there is not a blood test that can make this diagnosis. Furthermore, the inflammatory markers can be completely normal in a patient that has significant inflammation, making it even more confusing."
The University of Michigan Division of Rheumatology also played a key role in Chicago by hosting "Growing Scientific Collaboration Around Relapsing Polychondritis" on October 23, 2018. Joined by exceptional medical professionals, Dr. David A. Fox, chief of Michigan's Division of Rheumatology from 1990 to 2018, and Dr. Emily Somers, a specialist in the epidemiology of autoimmune diseases, led an educational and inspiring forum to discuss RP and how researchers can work together to advance the pace of discovery for this rare condition.
"We had a wonderfully productive and exciting time in Chicago." said Dave Bammert, President of RPASF's board of directors. "Dr. Fox was recognized as an ACR Master, one of the highest honors the College bestows, Dr. Ferrada won the ACR's Distinguished Fellow Award, and some of the world's greatest autoimmune disease researchers helped educate patients and medical professionals about relapsing polychondritis."
Raising awareness about RP and its many symptoms is critically important for both potential patients and the doctors who will diagnose them, and the fact that "relapsing polychondritis" was the most Googled disease in Illinois demonstrates how effectively direct actions can expand the public consciousness. Combined, these efforts all contribute toward the ultimate goal: finding a cure.
About Relapsing Polychondritis
Relapsing polychondritis (RP) is a systemic inflammatory disease of unknown etiology that can be fatal. The disease affects multiple organs, particularly cartilaginous structures such as the ears, nose, airway and joints as well as eyes, skin, vaculature, heart valves, and brain. For more information, visit http://bit.ly/RP_Poster
About RPASF
RPASF's purpose is to increase awareness about relapsing polychondritis, provide for those who are affected by RP, support research to advance a cure, and promote quality care for patients with RP. For more information, visit http://www.polychondritis.org/.
About Race for RP
Race for RP supports research, awareness programs, and cares for those who are affected by relapsing polychondritis and related diseases. For more information, visit https://raceforrp.org/ and watch https://www.youtube.com/watch?v=ZUwxHweOhjw&feature=youtu.be.
About AHN Autoimmunity Institute
The AHN Autoimmunity Institute is an unprecedented venture focused on advancing the diagnosis, treatment, prevention and cure of all autoimmune diseases, of which there are more than 100. The Institute's focus is on improved outcomes, increased patient satisfaction and quality of life, and decreased cost of care, through collaborative multispecialty care, cutting-edge research, advocacy and education in attacking these chronic diseases. For more information, visit http://www.ahn.org/autoimmunity-institute.