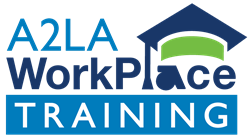 "...partnering with Qualtrax to create a simple, cost effective ISO/IEC 17025-based QMS solution for start-up companies was a win-win-win." - Tim Osborne, Vice President, A2LA WorkPlace Training
FREDERICK, Md. (PRWEB) September 17, 2020
A2LA WorkPlace Training (AWPT) has partnered with Qualtrax, a leading provider of custom quality management system (QMS) software, to create 17025 QMS QuickStart: a specialized software solution with preloaded content that helps small labs achieve ISO/IEC 17025 conformance. Both AWPT and Qualtrax were looking to provide a solution to this demographic that could be quickly customizable with the laboratory's brand, policies and objectives and remain fully conformant to the requirements of ISO/IEC 17025:2017. 17025 QMS QuickStart is that solution. The 17025 QMS QuickStart was born from AWPT's successful QMS Express consulting packages and a derivative of Qualtrax's industry recognized Best-in-Class customizable QMS workflows to achieve this goal. 17025 QMS QuickStart provides a balance of targeted functionality and sensible pricing.
With extensive experience providing education and consulting on ISO/IEC 17025, AWPT created their proprietary QMS template as part of the QMS Express consulting packages. By itself, the template is a valuable framework on which clients can design a conformant QMS system. Qualtrax, under guidance from AWPT, transformed seven of the QMS Express key quality system procedures and processes from Word templates into automated workflows that are fully executed within the QMS software program. The 17025 QMS QuickStart package contains everything labs require to customize, implement, and manage their QMS, including:

Pre-built folder structures,
Quality manual starter shell with procedures and forms,
Seven (7) automated workflows (procedures), and
Essential pre-configured reports. "As an owner and implementer of the Qualtrax Best-in-Class software and sharing similar cultures as the Qualtrax team, partnering with Qualtrax to create a simple, cost effective ISO/IEC 17025-based QMS solution for start-up companies was a win-win-win," said Tim Osborne, Vice President of A2LA WorkPlace Training. "The goal for 17025 QMS QuickStart is to keep focal points in the correct proportions: peak production efficiency, low up front and maintenance costs, and high quality. These were achieved!"
The 17025 QMS QuickStart software is now available for purchase by customers. For customers interested in A2LA WorkPlace Training's QMS Express consulting packages, the "17025 QMS QuickStart" software is available as an add-on in place of the QMS Express template and comes with the other package features by default. For more information, visit A2LA WPT's QMS Express page, or contact Qualtrax directly for software specifications at Qualtrax.com.
About A2LA WorkPlace Training
A2LA WorkPlace Training provides exceptional management system, conformity assessment, and measurement training for a variety of industries, as well as consulting services and remote training options. AWPT's training and consulting services are designed to help organizations achieve and maintain accreditation, giving them the tools they need to produce consistent results, improve the effectiveness of their management systems, and realize their personal and professional objectives. Click here to learn more about AWPT's services.