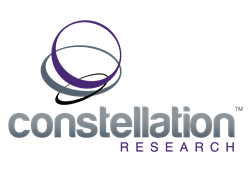 "Despite a chaotic and turbulent 2022, several companies stood out for exceptional impact and significant impact in progressing enterprise tech," said R "Ray" Wang, founder and CEO at Constellation Research.
PALO ALTO, Calif. (PRWEB) December 14, 2022
Thomas Kurian, CEO of Google Cloud, was tapped as Enterprise Technology CEO of the Year in Constellation Research's annual 2022 Enterprise Awards. Kurian was singled out to recognize his strength of leadership, specifically focused on the cloud portfolio and streamlined services.
Oracle was named the 2022 Enterprise Software Vendor of the Year, recognized for expanding reach and cloud capabilities in the face of critics who discounted the giant's capacity for change. The distinguished list of technology hits and misses was announced today highlighting the biggest accomplishments and the messiest mishaps of the year 2022. This is the fourth annual release of the Enterprise Awards, decided solely by Constellation Research's industry analysts and experts.
"Despite a chaotic and turbulent 2022, several companies stood out for exceptional impact and significant impact in progressing enterprise tech," said R "Ray" Wang, founder and CEO at Constellation Research. "These companies are ahead of the curve with new business trends and models, societal expectations, and emerging technologies that are transforming enterprises in our current reality and the decade to come."
AWS picked up two honors, being recognized for staging the Best Live Event of 2022 with the recently concluded re:Invent and being recognized for its partnerships in 2022. Traditionally, the Best Enterprise Partnership honor is awarded to the two organizations that through their partnership delivered the most impact for customers and the market. When it comes to AWS, there were too many standout partnerships being forged to single out any one duo. Accenture, Atos, IBM and Salesforce top the list of most prominent partners, but the list of organizations vying to scale opportunities through AWS partnership is lengthy and delivering results causing Constellation's analysts to award this year's honor to "Everybody with Amazon Web Services."
"The biggest bets in partnerships today are being placed on AWS," noted Doug Henschen, VP and principal analyst with Constellation Research. "The AWS Marketplace is celebrating its 10th anniversary this year and now boasts over 3,000 ISV partners delivering 13,000-plus solutions to more than 330,000 customers. The bets on AWS are big, but the impact for customers is even bigger at this scale."
While top honors to the best in enterprise technology are typically hard to narrow and award, the flops of 2022 were quick to identify and call out. The Biggest Technology Flop for 2022 goes to Crypto Trading Desks, an "honor" proven out by the crash and demise of once-hot solutions. Recent headlines outlining catastrophic losses are only the start to this slow march to collapse, including the latest disaster around FTX. "The category blew up and everyone is putting their money in a cold wallet because they're scared," said R "Ray" Wang, founder and CEO of Constellation Research. "For some reason, everyone seemed to assume crypto trading desks were safely insured and regulated! After the absolute collapse we've seen, we're going to be reading about this for the next decade."
While crypto takes a hit, AI takes center stage with generative AI taking the lead as the hottest new Enterprise Technology Category as Constellation's lead analyst on AIOps, Andy Thurai, notes that generative AI is proving what is possible when lab experiments move into real-life scenarios and use cases. "We now see AI moving to a level where it can equal human creativity and exceed human execution," said Thurai.
Constellation Analysts will share their takes and reveal the full list of this year's winners during a special pre-holiday edition of ConstellationTV's digital news show. The show will be broadcast at 9 am PST on Wednesday, December 14. Click here for more information.
The 2022 Enterprise Award categories, winners, and runners-up are listed below:
Best Enterprise Software Vendor
Winner: Oracle
Runners up: Google Cloud, Service Now, Adobe
Best CEO
Winner: Thomas Kurian, Google Cloud
Runners up: Shantanu Narayen, Adobe; Bill McDermott, ServiceNow
Best Enterprise Services Vendor
Winner: Infosys
Runners up: Wipro
Best Enterprise Software Startup
Winner: dbt Labs
Runners up: Celonis, Mobeus
Best Partnership
Winner: Everyone with Amazon Web Services (Accenture, Atos, IBM, Salesforce, etc.)
Runners up: Asana/Vimeo
Best Tech Acquisition
Winner: Adobe + Figma
Runners up: Google Mandiant, Intel Tower Semiconductor
Worst Tech Acquisition
Winner: Broadcom + VMware
Runners up: Twitter, HP Polycom
Best New IPO
Winner: Mobileye
Best New Enterprise Category:
Winner: Generative AI
Runners up: Product Content Syndication
Best New Enterprise Software Marketing of the Year
Winner: UKG
Runners up: Zoho, Dell Intel Partnership, Workday, AWS's Curiosity Kid
Best New Enterprise Software Ad Campaign
Winner: Salesforce
Runners up: ServiceNow, HubSpot, Monday.com, UKG, MNTN
Best Live-Event
Winner: AWS re:Invent 2022
Runners up: Dreamforce, AdobeMax
Biggest Tech Flop of the Year
Winner: Crypto Trading Desks
Runners up: Amazon's Devices: Echo and Glow, Google Stadia, Spotify's Car Thing, the sentience of Google LAMDA
For more about the winners and nominees of Constellation Research's 2022 Enterprise Awards, click here.
###
ABOUT CONSTELLATION RESEARCH
Constellation Research is a technology research and advisory firm based in Silicon Valley. We deliver strategic guidance to companies seeking to transform their businesses through the early adoption of disruptive technology. Our analysts draw on their experiences as practitioners to deliver pragmatic advice to CXOs leading digital transformation within their organizations. Clients include the board of directors, C-suite executives, line-of-business leaders, and IT visionaries who are not afraid to challenge the status quo. Our mission is to conduct research on emerging technologies, identify and validate trends, and empower our clients to succeed in the digital economy. Constellation Research also hosts DisrupTV, a show hosted by our founder R "Ray" Wang, which features disruptive leaders and reaches 40k+ viewers each week.