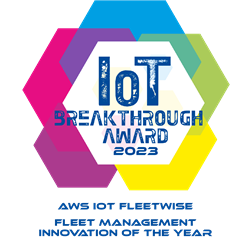 "By using AWS IoT FleetWise, automotive companies can work more easily with suppliers and partners across disparate data workloads that can help advance vehicle electrification and improve customer experience" - Mike Tzamaloukas, general manager of IoT automotive at Amazon Web Services
LOS ANGELES (PRWEB) January 17, 2023
IoT Breakthrough, a leading market intelligence organization that recognizes the top companies, technologies and products in the global Internet-of-Things (IoT) market, today announced that the Amazon Web Services (AWS) IoT FleetWise service has been selected as "Fleet Management Innovation of the Year" in the 7th annual IoT Breakthrough Awards program.
AWS IoT FleetWise is a purpose-built service for the automotive industry, making it easier for automotive companies to collect, transform, and transfer vehicle data to the cloud in near real time. Once the data is in the cloud, automotive companies can use it for applications that analyze vehicle fleet health to help quickly identify potential maintenance issues, make in-vehicle infotainment systems smarter, or apply analytics and machine learning to improve advanced technologies like autonomous driving and advanced driver assistance systems.
AWS IoT FleetWise helps automotive companies efficiently transfer data to the cloud in near real time using the service's intelligent data-collection capabilities. These capabilities allow developers to reduce the amount of data transferred to the cloud by defining rules for when to collect and transfer it based on configurable parameters (e.g., vehicle temperature, speed, and type). For example, they can define rules that only collect electric vehicle battery data when the temperature drops below freezing.
AWS IoT FleetWise provides automotive companies the ability to structure and standardize vehicle data, allowing for easier data analysis in the cloud. They can avoid the undifferentiated heavy-lift of developing custom data collection systems or they can enhance their existing systems by integrating the service. Developers use the service's virtual vehicle modeling features to define and model vehicle attributes and the sensors associated with the car's make, model, and components. By doing so, a signal like vehicle speed will always be formatted in the units of choice, regardless of region, making it easy to generate fleet-wide insights.
"Sourcing hardware, software, and connectivity systems from hundreds of suppliers leads to thousands of proprietary signals for in-vehicle communication and the heavy-lift of building custom data collection systems. As complex vehicle systems like electric vehicle batteries become standard, data fragmentation is likely to become an even bigger challenge, especially at the intersection where data is coming in from vehicles, charging stations, and grid management solution providers," said Mike Tzamaloukas, general manager of IoT automotive at Amazon Web Services. "By using AWS IoT FleetWise, automotive companies can work more easily with suppliers and partners across disparate data workloads that can help advance vehicle electrification and improve customer experience."
The mission of the IoT Breakthrough Awards program is to recognize the innovators, leaders and visionaries from around the globe in a range of IoT categories, including Industrial and Enterprise IoT, Smart City technology, Connected Home and Home Automation, Connected Car, and many more. This year's program attracted more than 4,000 nominations from companies all over the world.
"A confluence of factors has made vehicle data workloads enormous. Increasing numbers of connected vehicles with richer sensors and more advanced features are causing vehicle data to explode exponentially, accelerating the need for more intelligent methods that determine what data signals are important enough to collect and send to the cloud. Wrangling these big data workloads is also challenging due the data fragmentation and silos prevalent in the automotive industry," said James Johnson, managing director at IoT Breakthrough. "With AWS IoT FleetWise, customers can easily pinpoint the exact vehicle data they need and analyze it in a standardized format to gain actionable insights into the vehicle's health status and performance. Automotive companies can now use the data they extract using the solution to help accelerate electrification and autonomy. Congratulations on being our pick for 'Fleet Management Innovation of the Year!'"
####
About IoT Breakthrough
Part of Tech Breakthrough, a leading market intelligence and recognition platform for global technology innovation and leadership, the IoT Breakthrough Awards program is devoted to honoring excellence in Internet-of-Things technologies, services, companies and products. The IoT Breakthrough Awards program provides a forum for public recognition around the achievements of IoT companies and products in categories including Connected Home and Home Automation, Connected Car, Industrial IoT (IIoT) and Smart City, Consumer IoT and more. For more information visit IoTBreakthrough.com.