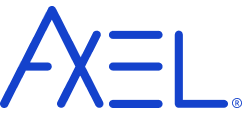 "Keeping client information confidential and secure is paramount for lawyers and legal professionals everywhere, especially with remote working trends and cybersecurity concerns," said Ben Ow, President and CTO of AXEL.
LAS VEGAS (PRWEB) April 15, 2021
AXEL, the innovative software company focused on data custody, privacy and security solutions, announces a new partnership with the Florida Bar Association, the third largest bar association in the United States. The partnership will designate AXEL as an approved member benefit provider to be included in their online vendor directory. Starting today, all Florida Bar members can sign up for a free trial of the AXEL Go secure file-sharing and storage platform to better protect their client files and confidential information. The AXEL Go Basic Plan is available at no charge, while the Premium and Business subscription plans will be offered to Florida Bar members at a 20% discount.
"The Member Benefits Committee was interested in the uniqueness of AXEL Go's secure file sharing," shared Michelle Suarez, Chair of The Florida Bar Member Benefits Committee. "As lawyers, we are concerned about protecting our client's information and client data security," Chair Suarez continued. "We did not have anything like this in the program as a standalone product and now is a great time to add AXEL Go."
The company recently launched its Business subscription plan, which is geared toward small law firms looking for a more trusted and secure way to manage their file sharing and storage capabilities.
"Keeping client information confidential and secure is paramount for lawyers everywhere, especially with the increase in remote working trends and cybersecurity concerns," said Ben Ow, President and CTO of AXEL. "The Florida Bar is ahead of the curve to recognize this and provide its members with access to a cost-effective solution. AXEL Go empowers legal professionals to uphold their ethical and legal obligations."
The AXEL Go application is part of AXEL's wider, patented blockchain-based technology platform designed as an easy-to-use, money-saving solution that prevents potentially destructive data breaches. The Business plan provides subscribers with five Premium accounts (normally $9.99/month each), with the ability to add more users according to individual or organizational needs.
Each Premium account (in contrast to the free Basic account) includes the following extra features:

10GB of secure, blockchain-backed online storage
No file size limits for shares (Basic accounts allow a 10MB file size limit)
The option for AES 256 encrypted storage
2-Factor Authentication for logins and file storage
As part of the Business plan, customers also receive an additional 100GB of shared online storage as a collaboration workspace for the associated Premium accounts. Business plans are priced at $59.99 USD per month with an additional 17% discount if paid annually. Additional users can be added at $4.99 per month each.
About AXEL
AXEL believes in a better internet for everyone, and that personal information is private property – it should never be compromised with third parties, ever. AXEL's commitment to creating awareness and educating the public about data privacy is fueled by companies that cross the line of what's acceptable when it comes to user privacy and protection. AXEL continues to expand its suite of affordable, patented technology solutions for data privacy, data security and data custody. For more information, visit AXEL and AXEL Go, and follow on Discord, Twitter, and Telegram.