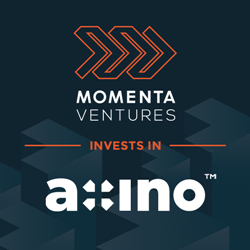 "I was immediately attracted to Axino, by the depth of its team and technology, as well as by the market need for these solutions. Axino is at the inflection point of making a substantial impact on the food retail industry". says Mario Vögeli, CEO at Axino
ZURICH, NEW YORK, and SAN FRANCISCO (PRWEB) March 02, 2021
Momenta Ventures has led the first external investment round for Axino, the market leader in smart retail solutions. Momenta is also accelerating the company's growth through the placement of Mario Vögeli as the new CEO.
Axino helps food retailers digitize and automate their food quality management process while complying with increasingly complex food safety regulations. Axino combines advanced sensor technology with artificial intelligence algorithms to remotely detect the core temperature of refrigerated food in retail stores. Founded in 2016, the award-winning, Swiss-based company has delivered proven food management solutions across significant retailers based on its proprietary core temperature food validation solutions.
Current retail food quality validation processes are time-consuming and often inaccurate contributing to food waste and energy waste. Axino solves these issues through their innovative industrialized wireless sensor that can predict the product core temperature even in challenging wireless environments while maintaining years-long battery life by communicating via Low-Power Wide Area Networks such as LoRaWAN®. This, connected with their intelligent food quality algorithms, helps retail and cold-chain companies manage their food quality efficiently.
According to Grand View Research, the global food and grocery retail market size was valued at USD 11.7 trillion in 2019 - this market is expected to grow from USD 13,98 trillion in 2020 to USD 17.30 trillion by 2027. IoT technologies and networks combined with increasing food quality awareness and regulations are fueling this growth. Working with industry leaders like Migros, Switzerland's largest retail company, Axino has already shown significant ability to tackle that market opportunity.
Axino's new CEO, Mario Vögeli has extensive experience in scaling digital technology companies. Most notably, he previously was the co-founder, CFO, and COO of Arktis Radiation Detectors Ltd. This award-winning Swiss startup develops and manufactures next-generation systems that detect and categorize radiological and nuclear materials to enhance operations and security.
Ken Forster, Executive Director of Momenta Ventures, notes, "These unprecedented times have created heightened consumer awareness of food quality. Solutions such as Axino are a triple win – helping retailers save costs and energy, meet stricter food standards, to better serve their shoppers with fresher foods – Axino's award-winning solution is truly a first critical step in the digital transformation of retail."
Mario Vögeli, CEO of Axino, adds: "I was immediately attracted to Axino, by the depth of its team and technology, as well as by the market need for these solutions. After a first successful installation at a major retailer, Axino is at the inflection point of making a substantial impact on the retail industry. I am excited for the opportunity to lead the company in delivering our unique food quality solution.
Ihab Hourani, CTO, and Founder of Axino, comments: "The Axino team is thrilled to have Momenta and Mario Vögeli join our team. Their deep digital industry expertise will not only bolster our expertise but also boost speed to market for the rollout of our food quality solution into the global retail industry".
About Axino
Axino is the leader in smart retail, contactless, food temperature validation solutions.
Axino combines advanced sensor technology with artificial intelligence algorithms to remotely detect refrigerated food's core temperature in retail stores. To learn more about Axino, please visit https://www.axino.ai/.
About Momenta Ventures
Momenta Ventures is the investment arm of Momenta Partners, the leading Digital Industry Growth Partner firm. Led by deep digital industry practitioners with strong entrepreneurial and corporate pedigree, Momenta Ventures has made over 40 investments, with notable exits to SAP, PTC, and Husqvarna Group. Momenta Ventures operates three Digital Industry funds, focused on Seed to Series B investments in Digital Energy, Manufacturing, Smart Spaces, and Supply Chain. For more information, please visit https://momenta.vc.