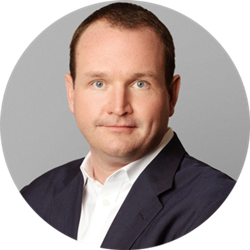 NEW YORK (PRWEB) May 20, 2020
Axiom, the global leader in high-caliber, on-demand legal talent, today announced it has named Sloane Googin its next CFO. Googin brings to Axiom a track record of driving value, supporting accelerated growth, creating process efficiencies, and facilitating acquisition activity across a wide range of industries including business services, technology, and data analytics/research. As an experienced leader and CFO, Googin will help Axiom seize on the tremendous growth opportunities before it.
"Our industry is at the tipping point for real, lasting transformation," said Elena Donio, CEO, Axiom. "Even before COVID, legal had seen an ongoing shift to flexible talent models. We believe that recent events will trigger a more accelerated transformation, and we think that Sloane is the absolute right person to help us navigate through that transformation and to help support our continued, ambitious growth plans. Sloane is not only an accomplished CFO, he is a creative thinker, and an enthusiastic driver of growth, at scale. I couldn't be more excited to partner with him."
Since 2018, Googin has served as the CFO for Dynata, a first-party data and insights platform company. There, he helped lead the business through a period of organic and inorganic growth, and internal transformation. Prior to Dynata, Googin spent 10 years at The Nielsen Company, where he last served as SVP of Global Financial Planning and Analysis, responsible for nearly all aspects of finance with an emphasis on process and operational improvements, mergers and acquisitions, and strategic planning. He also served as CFO to various Nielsen business units, including the Global Business Services Division. Prior to his time at Nielsen, he held various executive finance positions at General Electric Company and General Electric Capital. Googin received his BS in Information Systems from the University of Connecticut.
As CFO, Googin will lead Axiom's finance, accounting, facilities, and IT functions. He will be based in Axiom's headquarters in New York.
Said Googin: "We are at an inflection point for the business – a time where Axiom's value proposition couldn't be any stronger or more relevant. I'm excited to join the company at what I believe to be a transformational moment in Axiom's story – and I look forward to partnering with Elena and the rest of the executive team to write our exciting next chapter."
About Axiom
Axiom, the global leader in high-caliber, on-demand legal talent, is disrupting the way legal teams and lawyers work. Axiom enables clients to access over 2,400 talented lawyers though a curated platform and build more dynamic teams to drive better business outcomes. Axiom empowers lawyers across industries and practice areas to thrive while pursuing more of the work they love. The company is deeply committed to gender equality and diversity and prides itself on having one of the most diverse employee populations in the industry. Axiom works with over half of the Fortune 100 companies, and currently operates in North America, the U.K., Central Europe and Asia Pacific. http://www.axiomlaw.com.
Contacts
For Axiom:
Wendy Schechter, Articulate Communications (US)
wschecter@articulatecomms.com
+1 212.984.2475
Vicky Newark, Articulate Communications (UK)
vnewark@articulatecomms.com
+44 7376 918 964
###