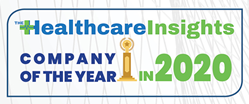 "The home care market plays a massive role in the care continuum, and AxisCare's feature-rich and user-friendly software is allowing agencies to focus on providing that care," said Todd Allen, AxisCare's CEO
WACO, Texas (PRWEB) October 16, 2020
AxisCare Home Care Software has announced that they have been named 2020 Healthcare Company of the Year in the Home Care Software category by Healthcare Insights, a leading comprehensive healthcare guide. AxisCare was chosen for the award based on its services to the industry and capabilities to endure these unforeseen times, in addition to being the fastest-growing and most efficient software platform in the home care industry.
AxisCare is a web-based software platform for the non-medical home care space, used for back-office and point-of-care documentation. At the core of the software is scheduling, which provides agencies with intuitive tools for various tasks such as creating ongoing client schedules, quickly filling open shifts, sending mass communications to clients and caregivers, real-time caregiver matching for clients in need of care, and more.
"The home care market plays a massive role in the care continuum, reducing hospital readmission rates and helping seniors remain healthy in their homes, and AxisCare's feature-rich and user-friendly software is allowing agencies to focus on providing that care," said Todd Allen, AxisCare's CEO. "We are honored to be named 2020 Healthcare Company of the Year in the Home Care category and look forward to helping more agencies streamline their back office and point of care."
In addition to scheduling, AxisCare provides agencies with solutions for marketing and CRM, billing, payroll, compliance, state forms, HR, reporting and analytics, EVV, and a point-of-care GPS mobile app for caregivers that captures everything from signatures to COVID symptoms. Over the last few years, AxisCare has seen a massive increase in demand because of the customizability of the platform which can be molded around company-specific business models and processes.
The pioneering company also has several integrations with other vendors in the home care space, allowing its customers to easily manage processes such as background checks, automatic billing and collections, payroll, Medicaid and other payer billing, GPS caregiver tracking, and more.
About AxisCare
AxisCare's agency management software is a back-office and point of care solution for non-medical agencies in all 50 states and 6 countries. Specializing in Private Pay, Medicaid and other 3rd-party payers, AxisCare's platform helps agencies, from startup to franchise, stay compliant, cash-flow healthy, and ahead of their competition with built-in marketing and CRM tools, user-friendly scheduling, industry-leading business intelligence, automatic payments, and more. Recently given the industry's top award for ease of use, overall performance and customer service, AxisCare's mission is to transform home operations, empowering agencies to provide better care. For more information about AxisCare, please visit axiscare.com or email sales@axiscare.com.
About Healthcare Insights
The Healthcare Insights is a comprehensive guide to all things related to healthcare specializing in producing quality content for our readers on both digital and publication platforms. Their mission is to increase awareness about healthcare, helping professionals involved in the medical industry remain informed about the latest developments in the healthcare market. Their panel of experts work to collect only the most accurate and impactful information. Learn more about Healthcare Insights at thehealthcareinsights.com.