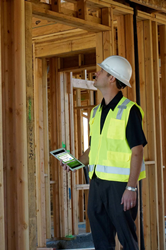 We capture more information of a single home than anyone in the world, so it just makes sense to open this tool up and bring the financial industry into the fold.
SAN DIEGO (PRWEB) February 12, 2019
AxisPointe announced today that it has been chosen to feature its newest InSite Funding™ mobile app tools at the upcoming Lendit FinTech 2019 Digital Banking Conference this April in San Francisco. The conference brings financial and technology leaders together to share innovations and identify trends in the growing Fin-Tech industry sector.
"AxisPointe has rolled out countless features to improve construction quality and reduce jobsite risk for many years," said Stan Luhr, its CEO and founder of the first QA programs for the insurance industry 20 years ago. "We are proud to be given this great opportunity to share with the banking world how we can slash costs and inefficiencies using our software."
AxisPointe's InSite Funding™ mobile tools provide builders with an enterprise-level SaaS suite to manage projects from single-family homes to complex projects, including customer service and insurance tracking features. InSite Funding empowers builders to record their daily construction activities and capture GPS-linked photos to greatly reduce the funding cycle time and share rich project data to minimize risks.
"The insurance industry has relied on our data for over 20 years, and builders have become more reliant on the many features of knowing exactly what is happening on their job sites," said Fred Chaney, who manages AxisPointe's team of programmers. "We capture more information of a single home than anyone in the world, so it just makes sense to open this tool up and bring the financial industry into the fold."
Financial partners will utilize AxisPointe's online Dashboard to set alerts, manage loans, and dive deep into the captured data without ever leaving the screen. Users can see builder requests, click on supportive digital documents, and review data collected by the builder and its third-party inspectors to finalize the draw. AxisPointe's software relies on GPS-linked data to verify exact construction progress and compliance to slash the cycle draw time from several days to minutes.
The system relies on process-driven metrics (called "checkpoints") within the mobile app to prompt users to record specific events throughout the build cycle. When a milestone has been reached, and the proper documents have been uploaded using the mobile app, the request is reviewed and can be approved in minutes, instead of several days for conventional systems. Luhr said that internal monitoring of "exception data", geo-fencing and other secrets help eliminate fraud and can alert the lender to problems long before a bank draw is even requested. "It's a superior system to the typical bank draw inspection process and eliminates the paperwork friction as well," Luhr said.
"Builders complain that it simply takes too long to get their funding on projects, particularly the smaller builders who lack the cash flow and need their funds immediately," Luhr said. He added that builders will also enjoy AxisPointe's enterprise software to manage documents, insurance, products and post-warranty service requests for a fraction of the cost of traditional bank draw inspection fees.
Lending partners receive AxisPointe's enterprise software to bundle with their loan offering at a reduced cost, adding value and gaining greater insight to their construction projects—no matter how remote the jobsite may be. The suite of AxisPointe builder-focused software includes homeowner websites, automated document management and archiving, construction QA/QC management, and post-construction service and warranty claims integration.
Features also include the MyHomeProfile™ homeowner access portal, where buyers view photos of their home under construction in real time. Builders can store all their project documents and selectively share digital documents with homeowners, which are stored for the life of the home. Customer service requests are also online and can be closed out using the InSite Mobile™ field app to ensure compliance.
Luhr says the InSite Funding™ program is the industry's first to integrate time-proven quality and risk metrics used in the insurance industry for 25 years with the needs of the financial industry. "The lenders and property insurers have aligned goals and risks, so it makes sense that our software can be leveraged to help both industries."