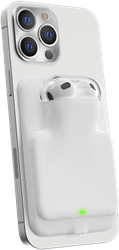 "Power1 is the first product to offer all-in-one, on-device charging of AirPods and iPhone and creates a new category of charging systems."
BROOKLYN, N.Y. (PRWEB) January 19, 2023
At CES 2023, AXS Technologies announced the launch of an all new version of Power1, an award-winning, all-in-one solution for AirPods and iPhone Charging.
Power1 was recognized on TIME's Best Inventions list and is the recipient of a GOOD DESIGN® award from The Chicago Athenaeum Museum of Architecture and Design. Power1 wirelessly charges iPhones and contains a patented AirPods charging station. It has been completely redesigned into a streamlined and MagSafe friendly form factor. The new design is significantly more compact and prominently features a magnetic attachment system AXS calls PowerLock™. PowerLock uses high strength magnets and slip resistant material ensuring one of the strongest magnetic bonds to MagSafe enabled iPhones and cases.
"Power1 Model 3 is our most significant and advanced design yet giving users the ability to attach our charging system directly on iPhones or on most MagSafe cases" said John Merenda, CEO of AXS Technologies. "Power1 is the first product to offer all-in-one, on-device charging of AirPods and iPhone and creates a new category of charging systems."
Power1 features a supplemental battery that provides more hours of iPhone talk time and up to 500% more AirPods charging. A charging station with a transparent, protective door keeps the AirPods charging, protected and secure. It also includes a USB-C port that charges Power1's battery, the iPhone and AirPods simultaneously. A charge mode switch gives users control of their power traffic. Mode-1 charges AirPods only while Mode-2 charges the AirPods and iPhone together.
Power1 Model 3 is compatible with MagSafe iPhones and most MagSafe cases and is available for AirPods Generations 2 and 3. Power1 will have an MSRP of $99.95. Shipping will begin in Spring 2023. Reserve yours now with a $10 deposit. To pre-order, visit. https://gopower1.com/.
About AXS Technologies
AXS Technologies is an innovative technology design company based out of Williamsburg, Brooklyn. AXS has developed a broad portfolio of domestic and international patents and a series of products that provide fundamental and unique solutions to charging, storage and protection of our most important devices. For more information, visit https://gopower1.com/.