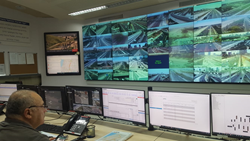 TEL AVIV, Israel (PRWEB) November 30, 2020
Netivei Ayalon, an Israeli Highway Agency, is partnering with Waycare to utilize its cloud-based platform for traffic management operations and AI-powered safety insights. Waycare's software combines information from city infrastructure, crowd-sourced data, and anonymized data from connected vehicles to provide real-time tools for traffic incident management and analysis. Ayalon Highway is a busy intra-city freeway passing through Tel Aviv. As the highway will soon be undergoing construction, Waycare's technology will be used to aid in the reduction of traffic congestion resulting from the project.
The Fast Lanes project will add new lanes to the Ayalon Highway for toll-paying cars, public transportation, High Occupancy Vehicles (HOV), and shuttles. While construction is underway, increased traffic congestion is expected due to restricted lane access. Waycare will help Ayalon's Traffic Management Center (TMC) and service patrol units identify traffic incidents, irregular congestion, and other areas that are at a higher risk for secondary incidents. As such, the agency will have better tools to take preventive measures and alleviate further congestion.
As part of the program, Waycare has helped Ayalon's Traffic Management Center leverage data from several partners including Waze, Otonomo, and Climacell. Enriching the platform with this data, together with the agency's own sources, will provide Ayalon's Traffic Management Center with a real-time view of the state of traffic along the Ayalon Highway providing a holistic picture of driving behaviors. This information will be especially useful to Ayalon TMC users, helping reduce traffic congestion when certain roadway cameras and sensors go offline due to road construction.
During Ayalon's initial testing of Waycare, the agency observed an 11-minute reduction in the average time spent clearing incidents off the roadway. As every minute is critical to ensuring road safety and reducing traffic congestion, this figure provided a promising indication of how the platform can enable more rapid incident management response.
Itamar Ben-Meir, CEO of Netevei Ayalon, says that the agency's goal is to streamline the transfer of information from the road to its Traffic Management Center so that the agency can respond as quickly as possible. "The Waycare system, which will be launched for the first time in Israel with Netivei Ayalon, will help us quickly identify problems and optimize our response. We see the application of advanced technologies on Israeli roads as an important component in providing diverse solutions to improving road safety."
Echoing a similar statement, the head of the Israeli Ministry of Transport and Road Safety, General Miri Regev, encouraged the nation's agencies to promote innovative initiatives and collaborations based on technology to solve problems with traffic congestion. "I applaud the launch of the joint project with Netivei Ayalon and Waycare, that marks another leap forward in technology, and upgrades our ability to identify and resolve problems in real time, on Israel's most densely-trafficked roads."
Despite being founded in Israel in 2016, Waycare predominantly works with traffic management agencies in the United States. The company's CEO, Noam Maital, says that he is eager to begin work in Israel, "We are very excited to support Netivei Ayalon in this project," says Noam Maital. "As an Israeli company deployed throughout the U.S., we have been eager to bring our solutions back home in Israel." In the future the company hopes to serve not only Ayalon's TMC and Service Patrol agencies, but also the police and emergency services authorities.