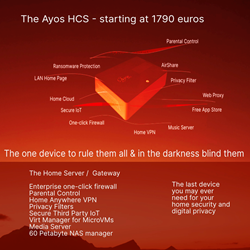 The one device to rule them all & in the darkness blind them
AMSTERDAM (PRWEB) June 11, 2021
The HCS seems to be targeting the privacy & security conscious demographic. Made by a small European technical architecture company, the Ayos Gateway is two main functions in one, Gateway & Server. It is a gateway providing an enterprise 1 million packet per sec one-click firewall, a secure unique incoming home VPN without opening your network, & even having Secure IoT for third party devices out of the box.
It comes in two flavours, a large HCS capable of providing a huge amount of install-able applications for 1790 euros, & a smaller HCS-mini available for pre-order at 540 euros. The larger seems better for the prosumer & the mini good for on a budget needs. It is rather unique as it seems to be more feature rich than one would expect but also seems to have no competitors. Having both a server & a functional gateway in a single box is unheard of so far in the industry, especially with a "Unix-like or type" operating system as its base.
For the tech community they have added a lot of features such as transmission, a virtualization manager for internal micro-VMs & Proxmox APIs to manager external servers & their VMs. And for the consumer, media & music centers, 4g & Starlink connection capabilities as PnP & even as secondary links, WiFi speed-testing, & a host of some 670+ features.
The Ayos HCS does not just have a portal but also comes with its own Home Page, accessible through Home Anywhere & the LAN, it allows you to add widgets, like gold prices, bitcoin, weather, & many more. So all of you daily visuals are held on a home page & thus you do not need to configure every device or have your ID stolen while you check whether you can surf today or not.
And finally the HCS comes with their "Home Cloud". The ability to sync or distribute your passwords, documents, notes, calendar, contacts, & even recipes to all your devices or between the family. They seem to use some of their own apps & parts of the NextCloud Hub. The goal here being you never need to get locked into an ecosystem ever again & can sync with any device anywhere almost.
The new Ayos HCS just might be incredibly disruptive to the present "steal the new black gold" of mass identity theft & user data that occurs daily in our digital life by certain corporations & apps. If people truly understand what this means it could start a trend of new devices like this. Even our Smart TVs, as an example, can make up to half of their revenue from spying on the habits & listening into the conversations of their customers. The quote for the product is "The one device to rule them all & in the darkness blind them" which seems relative & amusing, but true.