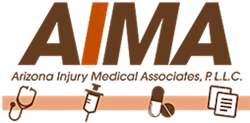 Costochondral and sternochondral injections are amazing for pain relief in the chest and ribs!
Phoenix, Arizona (PRWEB) May 04, 2016
Arizona Injury Medical Associates PLLC is now offering costochondral injections for the effective relief of chest wall and rib pain. The procedures are offered by a Double Board Certified pain doctor who is an expert in treating injured workers under workers compensation claims. Call (480) 347-0941 for more information and scheduling.
Individuals injured at work or in auto accidents often suffer from pain in the chest in the junction between the bone and cartilage parts of the ribs, known as the costochondral junctions. This pain can make it difficult to work, walk and even breathe comfortably. The medical term for the pain is called costochondritis, or Tietze's syndrome.
Arizona Injury Medical Associates PLLC offers expert treatment for all types of chest and rib pain due to costochondritis. Dr. Demitri Adarmes is a Double Board Certified physician who offers both medication management and interventional procedures for all types of painful conditions sustained due to a work or auto accident injury. For the chest or rib pain, injections with numbing medicine and steroid are available. Image guidance is used to ensure accuracy with needle placement.
The practice sees patients from throughout Arizona, along with patients throughout the US who are in need of a Federal Workers' Compensation doctor. Dr. Adarmes has an extremely high nonoperative success rate for helping patients achieve pain relief along with getting individuals back to work. This includes various types of nerve blocks, joint injections, soft tissue procedures and others.
Arizona Injury Medical Associates PLLC not only offers expert medical care, but also comprehensive administrative paperwork to help with patient claims. For the top federal and Arizona workers' compensation doctor treatment, call the practice today at (480) 347-0941.