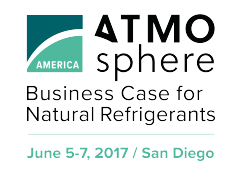 Azane is a major advocate of natural refrigerants, having pioneered the use of climate friendly refrigerants through advance re-engineered system designs and research. We are thrilled to be a sponsor of global market accelerator of natural refrigerants
San Diego, CA (PRWEB) June 02, 2017
US manufacturer of low charge ammonia solutions for the commercial and industrial refrigeration market, Azane Inc, has announced it is sponsoring the 6th edition of the annual conference event on natural refrigerants ATMOSphere. Taking place 5-7 June 2017 in San Diego California, the event is world renowned as the leading forum for discussion about the business case for natural refrigerants in North America. As bronze sponsors, Azane will have a high profile presence at the event.
The three day conference is returning to California next week, and will host over 400 industry leaders from the US and beyond. The annual esteemed event includes interactive workshops, Q&A sessions, unparalleled networking opportunities and an awards ceremony.
Azane will be represented at a booth during the three days, where delegates can find detailed information about recent installations of the company's air cooled packaged low charge ammonia chillers and condensing units, as well as information on ammonia's environmental, legislative and economic advantages.
In addition to becoming a sponsor, Azane Inc's VP of Business Development Caleb Nelson will also be presenting a paper on Tuesday June 6th as part of the program schedule. Mr Nelson will review recent installations that highlight the unique benefits of low charge ammonia and give an update on the increasing uptake of low charge ammonia activity in the US.
Mr Nelson said, "We are thrilled to be a bronze sponsor of one of the world's most prominent natural refrigerant events. Azane is a major advocate of natural refrigerants, having pioneered the use of climate friendly refrigerants through advance re-engineered system designs to make the systems as efficient as possible. We wanted to make sure we were a key partner again this year at ATMOsphere America 2017 in order to share of our findings and experiences with the hundreds of attendees".
He added, "We look forward to meeting industry professionals at our booth and promoting the multiple advantages of using ammonia as a natural refrigerant."
ATMOsphere is dedicated to creating interactive workshops which bring together decision makers in government and from industry to present the business case for natural refrigerants including ammonia, carbon dioxide, hydrocarbons and water. In addition to ATMOsphere America, the organisation also organises global events in Australia, Asia and Europe
ATMOsphere America 2017 runs from 5-7 June at Loews Coronado Bay Resort, San Diego, California. For more information about the event and to register to attend, visit the website: http://www.atmo.org/america2017
To find out more about Azane Inc and the company's innovative Azanechillers and Azanefreezers go to http://www.azane-inc.com
About Azane
Azane is a world-leading manufacturer specializing in low charge ammonia refrigeration solutions with a history on the technology dating back to the 1990's. The technology operates using ammonia – a naturally occurring refrigerant with zero ozone depletion potential and zero global warming potential- and offers up to 95% reduction in ammonia charge and a 20% reduction on energy savings compared to traditional ammonia systems and HFC systems.
Azane are part of the Star Refrigeration Group and manufacture for the US market in Chambersburg