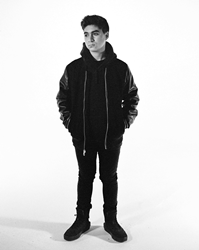 Azym thinks, "It's important for people to "open up" and let people in; it can help fuel those flames that are flickering."
Ottawa, ON (PRWEB) January 31, 2021
Ottawa-based singer Azym, at just 16 years old, has been jumping with both feet into the music scene, and he's quickly making a name for himself by distinguishing his music from the crowd. Since Azym dropped his much-anticipated single "Open Up", it has garnered over 125,000+ streams on YouTube already.
Azym thinks it's important for people to "open up," and let people in, because it can help to fuel those flames that are flickering. That's what his single is all about. He sings "it feels like, nothing even matters when I'm with you...you just gotta open up to me". It's about the realization that the only way a relationship can grow and progress is by opening up and being vulnerable.
His lyrics draw inspiration from past experiences as he sings about the early stages of a relationship. With its catchy beat and lyrics, Azym turns his heartfelt lyrics into a song that's easy to dance to. It's a song that anyone can resonate with, as well as enjoy.
Even though he's only sixteen years old, Azym already has a very clear grasp of who he is as an artist. He doesn't box his music in and doesn't believe in boundaries. His music is influenced by various different genres such as pop and R&B.
Azym's fire and drive are exactly what are making him stand out. Previously, Azym performed "Open Up" live on television at Daytime Ottawa. And prior to the pandemic, he performed at countless events across Ontario such as Toronto Youth Day and Kanata's Canada Day.
Azym's vision and focus have landed him at Canyon Entertainment Group, an Ontario-based artist management company and independent record label. His ambition is propelling him to the forefront of the Canadian music scene, and it's his desire to one day reach success on an international scale, and to perform for audiences all over the world.
For more information, please contact:
Dawn Van Dam
President and CEO of Canyon Entertainment Group
info@canyonentertainmentgroup.com