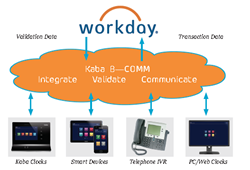 We plan to leverage our vast industry knowledge and Kaba's global network of time collection experts and solution integrators to make this partnership a tremendous success."
Miramar, Florida (PRWEB) May 02, 2016
Kaba has teamed up with Workday to create B-COMM® for Workday, an extension to Kaba's existing catalog of ERP data collection solutions. B-COMM for Workday is now available to Workday customers globally.
B-COMM® for Workday is a time collection subsystem that integrates Kaba time collection devices with Workday's Time Tracking solution. With over 25 years of experience in the data collection subsystem marketplace, Kaba expects its Workday offering to be as functional and as widely accepted as its SAP, Oracle and Microsoft solutions.
Workday customers may connect Kaba's time clocks, mobile solution, web-clock solution and IVR telephone solution to Workday Time Tracking with B-COMM®. These technologies offer customers the most efficient means of collecting Positive Time for hourly, non-exempt employees. The Kaba solution for Workday, like all B-COMM® solutions, offers human resource departments the assurances they require, knowing that their employees will interface with an intuitive, reliable, and scalable system designed for continuous collection and accurate transmission of critical payroll data.
"After months of rigorous development and testing, Kaba is pleased to launch its latest B-COMM® solution; B-COMM® for Workday. B-COMM® is the most used ERP time collection subsystem in the world. With more than 1,800 global customers, Kaba is excited about the opportunity to partner with Workday both domestically and abroad. We plan to leverage our vast industry knowledge and Kaba's global network of time collection experts and solution integrators to make this partnership a tremendous success." says Mark Allen, Head of Kaba Workforce Solutions.
Thomas Herling, Kaba's Global Business Owner of Electronic Access and Data Systems adds, "Customers demand quality and support. Kaba's unique ability to service global customers as one vendor, and our proven track record of long lasting relationships with our ERP partners, is a major advantage for both our customers and our ERP partners. Kaba's focus on the future secures our investments into products and technology, allowing Kaba to meet the demands of its customers today and tomorrow."