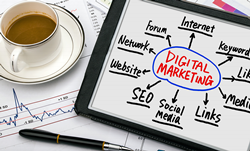 COVID-19 has permanently altered the way we do business. In order to be successful, businesses will have to continue to rely on digital interactions to reach their customers.
CANOGA PARK, Calif. (PRWEB) October 20, 2020
Two-thirds of Business to Business travel and tourism companies saw a substantial disruption in their business in the COVID-19 era. Additionally, 60% of the personal services and 46% of the manufacturing segments have also seen significant turmoil in their operations.(1) Across the world in-person events—such as trade shows, a mainstay of B2B marketing—have been cancelled and most are not expected to return until late 2021.(2) More than 50% of B2B buyers have reported they were holding off on making a purchase because of the pandemic.(3) "COVID-19 has permanently altered the way we do business. In order to be successful, businesses will have to continue to rely on digital interactions to reach their customers," MountainTop Data CEO Sky Cassidy said.
Due to this shifting landscape, businesses have had to rethink and reshape the way they reach consumers. In order to be successful, B2Bs have had to rely on digital channels, including virtual events, online content and email campaigns to engage audiences.(4) Cassidy says this pivot to digital makes it more essential than ever for businesses to adapt to the new B2B landscape.
Even after people feel safe getting back together in person, the importance of digital interactions will not go away. According to a McKinsey & Company report, B2B companies now see digital interactions as two to three times more important to their customers than traditional sales interactions.(5) In the same survey, an overwhelming majority of 90% of responders said that their company had moved to a digital sales model and more than half of those thought that the new model was equally or more effective than the one used before the COVID-19 outbreak.(5)
The sales department is not the only division that is changing the way they do business. Marketing Departments are also looking for new ways to connect and engage with customers. The Content Marketing Institute reported that:

94% of marketers polled had changed their content marketing strategy because of the pandemic.
80% felt that the changes their company made have been effective.
86% expected the changes to stay in effect for the foreseeable future.(6)
As businesses continue to grow and navigate through 2020, it will be essential to have accurate contact lists so that the messages they develop are not getting lost in a digital dumpster. "Having the right digital partner—like MountainTop Data— to achieve this is paramount to success," explains Cassidy. Some steps that businesses should be undertaking on a regular basis, Cassidy notes, include:

Comparing internal databases to check for duplicates or inaccuracies.
Cross verifying social media.
Verifying email addresses.
Any marketing plan must include email verification and data scrub services. MountainTop Data, includes all of these steps, as well as individual field algorithms with more than 200 processes to format, standardize and identify bad data.
"In addition to all the other ways it has changed our world, COVID-19 has also affected the data that many use to garner sales and interest," says Cassidy. "In a typical year, businesses could expect a 30 to 40% change in their B2B database, but this has not been a typical year—work locations have altered, people have been furloughed, some have changed jobs and many that are still working are no longer available in their office."
This means business data has decayed at a more rapid rate than usual. Inaccurate emails and dirty data can ruin a marketing campaign and during these turbulent times, it is more essential than ever that businesses make sure every dollar they are spending is reaping a benefit. The good news is marketing data is easy to fix and having cleaner data will boost and increase sales.
About MountainTop Data:
MountainTop Data, headquartered in Los Angeles, CA, has been providing data services for B2B marketing for almost two decades. With an unrelenting commitment to quality they were the first company to guarantee the accuracy of their licensed data and business emails. They provide marketing lists, data cleaning, data appending and data maintenance services. Their data services have been used by some of the world's biggest brands across a multitude of various industries from multi-national telecommunication companies to office technology, to PR firms and more. For more information, visit: https://www.mountaintopdata.com.
1. Ryan, Jillian. "COVID-19's Impact on the B2B Industry," eMarketer, June 29, 2020, emarketer.com/content/covid-19-impact-on-b2b-industry.
2. Hyken, Shep. "Trade Shows And Exhibition In The Post-COVID-19 Era," Forbes, August 9, 2020, forbes.com/sites/shephyken/2020/08/09/trade-shows-and-exhibitions-in-the-post-covid-19-era/#4c88a3ff2810.
3. Winters, Jeff, "How to Keep Closing B2B Deals During the Pandemic," Harvard Business Review, July 28, 2020, hbr.org/2020/07/how-to-keep-closing-b2b-deals-during-the-pandemic.
4. Ryan, Jillian, "B2B Best Practices in a COVID-19 World," eMarketer, June 18, 2020, emarketer.com/content/b2b-best-practices-in-a-covid-19-world.
5. Plotkin, Caroline, Spillecke, Dennis, and Stanley, Jennifer, "The B2B digital inflection point: How sales have changed during COVID-19," McKinsey & Company, April 30, 2020, mckinsey.com/business-functions/marketing-and-sales/our-insights/the-b2b-digital-inflection-point-how-sales-have-changed-during-covid-19#.
6. Murton Beets, Lisa, "The 11th Annual B2B Content Marketing Report," Content Marketing Institute, October 1, 2020, contentmarketinginstitute.com/wp-content/uploads/2020/09/b2b-2021-research-final.pdf.