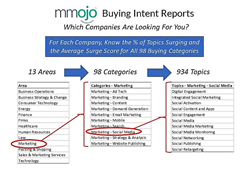 "Bombora Company Surge® Data is based on the content consumption of millions of B2B organizations," said Bombora VP of Partnerships Dale Durrett. "Mmojo makes that data available in a simplified form, so Mmojo users can determine which companies are actively looking for their products and services."
AUSTIN, Texas (PRWEB) March 05, 2019
Mmojo users can now use business-to-business intent data to find likely customers, thanks to a partnership the company announced today with Bombora, the industry leading intent data provider The partnership integrates Bombora Company Surge® Data into the Mmojo Data Marketplace.
"Bombora Company Surge® Data is based on the content consumption of millions of B2B organizations," said Bombora VP of Partnerships Dale Durrett. "Mmojo makes that data easily available in a simplified form, so Mmojo users can determine which companies are actively looking for their products and services."
"Intent Data is ushering in a new wave of B2B data-driven marketing and sales," explained Mmojo Founder and Managing Partner Hank Weghorst. "By using Intent data, Mmojo Users can identify target accounts in 'active demand' mode and customize conversations to drive better marketing results."
Buying Intent Reports
The Mmojo Data Marketplace now includes Buying Intent Reports that can be appended to companies contained in Mmojo lists. Each Buying Intent Report uses Bombora Company Surge® scores to determine a specific company's Buying Intent across more than 90 categories. Mmojo users can then prioritize accounts based on Buying Intent and customize marketing programs based on intensity and specific categories. For Mmojo users seeking more detailed analysis, Mmojo will refer them directly to Bombora.
A New Model for Accessing B2B Marketing Data
"Our goal at Mmojo is to introduce a new model for how B2B Marketing Data is sourced, delivered and priced, so it will be accessible to SMB marketing and sales professionals and, at the same time, expand the market for data providers like Bombora," explained Weghorst.
Weghorst cited three key aspects of the new model:

Sourcing – Mmojo users agree to a simple set of terms and conditions when subscribing to the Mmojo application to gain access to dozens of free and premium datasets from industry-leading data providers. Without Mmojo, users would have to negotiate separate agreements with each data provider.
Delivery – Mmojo users simply click to append data to companies within their lists, as Mmojo has already cross-referenced each record in the Mmojo Data Marketplace to a company. Without Mmojo, users can't cross-reference data from different data providers to a company — resulting in poor data utilization, and multiple payments for the same data.
Pricing – There is no charge to append and view data products within Mmojo. Users pay per record only for the premium data they export — and at rates well below the industry standard.
Resources

About Bombora
Bombora tells B2B marketers exactly which companies are showing increased interest in the marketers' goods and services. Armed with that knowledge, marketers can approach their new targets with confidence. This intent-driven approach revolutionizes the way businesses market and sell to other businesses through transparent data built on an ecosystem of quality, collaboration and innovation. With direct integrations with dozens of leading data and media-buying platforms, Bombora is building a world in which business buyers value sales and marketing for its relevance, timeliness and accuracy. To learn more, visit bombora.com.
About Mmojo.com
Mmojo's mission is to use software technology to transform the way businesses work with data. We combine the highest quality data from industry leaders with our patent pending software technologies to make data accessible, affordable and manageable. Our customers use these capabilities to accelerate customer acquisition, revenues and competitive advantage in the marketplace. For more information and access to the Mmojo application, visit https://www.mmojo.com.