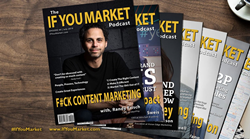 Although even more transactions should close digitally in 2020 than prior years, the merging of a sales representative with digital should also increase.
LOS ANGELES (PRWEB) December 31, 2019
"If You Market, They Will Come," is a weekly marketing podcast where B2B industry experts discuss every B2B marketing subject under the sun. Looking back at their podcasts from 2019, four key marketing tactics rose to the top as the best strategies most likely to continue that B2B marketers should employ in 2020.
1. The Video Trend. In 2018, according to Wyzowl statistics, 63% of business were using video marketingout of those 82% of businesses felt it was important to their strategy and 83% reported good ROI from their video marketing efforts.1 The popularity of video likely increased in 2019 and is sure to continue an upward trend in 2020.
However, according to Sky Cassidy, CEO of MountainTop Data and cohost of "If You Market," "Video can come in all shapes and sizes, everything from 10 second advertising GIFs to hour long content videos." Moving into 2020," says Sky, "viewers will be more selective and savvier than ever. There is a saturation of video so quality content is key, also it's important that video content is targeted and engages them personally and on a visceral level. Videos should educate, entertain, inform and inspire people. There is a real danger that viewer will be desensitized to video in 2020 and video that does not need to be video will increasingly be seen as a gimmick."
2. Content Marketing. According to many of Sky's guests on If you Market, content marketing will grow even more popular in 2020. As one guest put it, "People have been so bombarded with slogans and advertising messages over the years that they've lost trust. Powerful content, especially given by experts of any given field, has premium value today. Compelling content generates trust that leads to eventual sales. Like video though content in general has reached a saturation point so providing real value to a targeted audience is key."
What makes "compelling content?" The title of a book of another of Sky's guests, Randy Frisch, says it all: "F#ck Content Marketing, Focus on Content Experience." Said differently, content for the sake of content isn't enough. Whether it be video, audio, or the written word, you must create a moving experience for the prospect. In 2020 it will be the personal interactive experience that the customer has with your content that will make your content compelling enough to rise to the top. B2B marketing messages are often cookie cutter and don't steer the buyer to the next logical step in the funnel, which is either the close, or a step away. If your content is experiential and engages your audience on a deeper level, then your marketing message has that much more impact. Smart B2B marketers will find ways to give their audience a better content experience at every stage of the buyer's journey in 2020.
One of the best and fastest growing methods to deliver a great experience to your prospects with content marketing is to start your own podcast. Nearly a quarter of all podcast listeners have gotten started in the last six months. What's more, 51% of the U.S. population over the age of 12 has listened to a podcast.2
3. Sales and Marketing Funnels. As in 2019, it is believed that sales and marketing funnels are likely to continue to merge in 2020, again, making the buyer's journey more personal. As Laura Patterson of Vision Edge described it in an "If You Market" podcast, "Because business buys are generally more complex than B2C interactions, the buyer's journey with B2B is even more important than that of B2C. The purchases often involve consultations and coordination with representatives and sales personal, rather than, say, just adding things to your cart in a grocery store."
Last year the number of B2B buyers that said they found interacting with a sales representative superior to gathering information on their own was slightly higher. Although even more transactions should close digitally in 2020 than prior years, the merging of a sales representative with digital should also increase. This trend should cue sellers to look at ways of increasing their product or service value through more involvement with a live person on transactions.3 A big part of the merging of the funnel will be the increased value of being more personal and more human. As automated interactions increase human interaction will become even more important.
4. Product Centric to Consumer Centric. Product Centric marketing focuses on the seller's product. Consumer Centric Marketing focuses on the seller's customer's needs and wants. Given that presenting the customer with a good experience is desirable it naturally follows that Consumer Centric is the preferred marketing method in 2020. As Laura Hall, senior manager of marketing communications and content at SalesLoft, said in an "If You Market," podcast, "You want to create consumer centric content that aligns with your overall message and your mission and helps your target audience, your readers, accomplish their goals because you're really there to help them achieve something that they want or they need." Creating products and content that delivers what customers need and want will obviously contribute to a pleasurable experience for prospects. As verticals mature they commoditize and customer experience and addressing the customers direct needs becomes the focus. This is happening in the MarTech space right now and will be a big trend in 2020 B2B marketing.
In summary, the panel of experts that participated in the 2019 best "If You Market" podcasts predict that the winning formulas for 2020 will be:
1. Content Marketing that focuses on a pleasant, helpful and sometimes interactive experience.
2. Video Marketing that engages viewers with compelling content that goes beyond the cliched messages that many companies engage in.
3. Marketing Funnels that involve marketing and sales working together with interactive steps to make the customer experience more personal.
4. Consumer-Centric Marketing that talks to the prospect directly about their problems and lifestyles in a way that makes the marketing message resonate with them.
Cassidy encapsulates it this way: "The sentiment that runs through all the 2020 predictions is that successful B2B marketing efforts will be more personal, interactive, and experiential for buyers. It is the year of the customer.
About MountainTop Data
MountainTop Data, headquartered in Los Angeles, CA, has been providing data services for B2B marketing for almost two decades. With an unrelenting commitment to quality they were the first company to guarantee the accuracy of their licensed data and business emails.  They provide marketing lists, data cleaning, data appending, data maintenance and email campaign management services. Their data services have been used by some of the world's biggest brands across a multitude of various industries from multi-national telecommunication companies to office technology, to PR firms and more. For more information visit: https://www.mountaintopdata.com
About the "If You Market" Podcast
Meet If You Market podcast host, Sky Cassidy—an accomplished B2B marketer. And his co-host, disruptive PR evangelist Karla Jo Helms. Together they talk with industry experts to analyze B2B marketing tactics in a cocktail hour atmosphere.
The podcast airs on iTunes, Stitcher, Google Play and TuneIn Radio.
Sky Cassidy is also the CEO of MountainTop Data. MountainTop Data, based in Los Angeles, CA, provides data and data services for B2B marketing. Karla Jo Helms is the CEO and Anti-PR Strategist of PR agency, JOTO PR DisruptorsTM, based in Tampa, FL. Visit them via http://ifyoumarkettheywillcome.com/category/if-you-market-podcast/?PRS
1. Kallas, Priit. "8 Powerful Reasons You Need to Use Video Marketing [TRENDS]." DreamGrow, 10 July 2018.
2. "Our Top B2B Content Marketing Trends & Predictions for 2020." Online Marketing Blog - TopRank®, 2 Dec. 2019.
3. Robertson, Caroline, et al. "Predictions 2020: B2B Marketers Pivot From Products To Experience." Forrester, 1 Nov. 2019.
4. Some If You Market industry professional guests of 2019 include: Kate Athmer (common ABM mistakes), Aaron Ross (Outbound Marketing & SDRs), Randy Frisch (Content Marketing), Greg Powell (Product Marketing), Jack Kosakowski (Demand Generation), John Dering (ABM), Ryan O'Hara (Startup Marketing), and so many more."