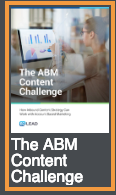 "Fake leads are happening way too often across the industry. Validation and proof is what B2Lead and TechConnectr bring to their clients!"
MENLO PARK, Calif. (PRWEB) February 24, 2019
B2Lead, a global leader in B2B lead generation and content syndication, is proud to announce their alliance with TechConnectr. TechConnectr offers best-in-breed ABM and lead generation solutions. B2Lead will provide services through the TechConnectr Marketplace as a Preferred Partner.
"TechConnectr is new to the industry but backed by long-term industry leaders, like Bob Samuels. Our TechConnectr Marketplace partnership will help B2Lead expand its reach beyond wholesale and agency clients, and deliver our complete portfolio of global solutions to a wider audience," said Mark Nachlis, Head of Sales and Marketing at B2Lead.
"TechConnectr helps marketers deliver highly-targeted "quality" leads to their sales teams. We ensure quality and no fake leads by partnering with lead generation solution providers who are the best at what they do. B2Lead is one such Preferred Partner with an amazing track record in content syndication and lead generation for over a decade," shared TechConnectr's Bob Samuels.
B2Lead has delivered quality leads using their ABM, top-of-funnel, MQL, SQL and HQL solutions for over a decade. Headquartered in Silicon Valley, B2Lead's mission has been to help publishers, agencies and enterprise clients "tell their story" to their specific B2B audience and reach their lead generation goals. Leads from B2Lead are 100% guaranteed thanks to engagement tracking on the LeadStory Platform, their proprietary bot detection solution and in-house verification solution. B2Lead has also worked hard to become GDPR compliant for its global clients.
TechConnectr is a marketplace of best-of-breed ABM and lead generation solutions such as content syndication, intent database, email marketing, telemarketing, appointment setting and programmatic. TechConnectr's vetting and detailed evaluation of lead generation solution providers include site-visits; reviews of hiring and training protocols; assessment of data sources and quality controls forms the basis of their custom recommendations for specific marketing needs. We will be attending #B2BMX in Scottsdale February 25 – 27, 2019