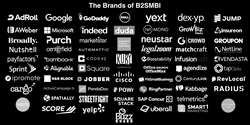 "We're committed to bringing a fresh approach to face-to-face conferences for the B2SMB community. In the coming year we're thrilled to deliver three high-value events, each of which will provide opportunities for making meaningful connections. Dave Walker, B2SMBI CEO
CHICAGO (PRWEB) November 01, 2018
The B2SMB Institute, the first professional organization focused on advancing excellence in the business-to-small-business ecosystem, today announced its 2019 conference calendar, featuring a mix of content and formats providing powerful learning and networking experiences for B2SMB executives and practitioners throughout the coming year.
The B2SMB Institute 2019 conference lineup includes:
March 19-20, 2019, Dallas, TX – Playbooks19
June 13-14, 2019, Napa Valley, CA – B2SMBI Leaders' Forum
Oct. 2-3, 2019, Chicago, IL – B2SMBI Global Conference
"We are committed to bringing a fresh approach to face-to-face conferences for the B2SMB community," said Dave Walker, CEO and co-founder, B2SMB Institute. "In the coming year we're thrilled to deliver three high-value events, each of which will provide opportunities for making meaningful connections, learning best practices and discovering the latest technologies for successfully competing in the $500-billion SMB marketplace."
Introducing Playbooks19
Playbooks19 is the B2SMB Institute's newest event, featuring peer-to-peer workshops on how to successfully win, keep and grow small-business customers. The event takes place March 19-20, at AT&T Stadium, in Dallas, home of the NFL's Cowboys, the ideal venue for building winning B2SMB strategies and tactics.
The program will feature leaders in B2SMB marketing, sales, product development, customer service, delivery and more, offering B2SMB practitioners a crash course in doing their jobs better. The content and format are inspired by the tremendous response to Playbooks breakout sessions at the B2SMB Institute's 2018 Global Conference.
B2SMB Institute Leaders' Forum 2019
Napa Valley's newest "foodie wonderland" (NY Times), the Culinary Institute of America at Copia, provides the perfect setting for B2SMBI's 2019 Leaders' Forum. This event features an elite assembly of 100-plus senior executives, representing the C-Suite of many of B2SMBI's largest members, who are driving the $500 billion B2SMB marketplace.
The program will address the critical challenges and opportunities of the highly fragmented customer and prospect base – millions of "snowflake" SMBs who often defy description. Leaders will address fellow leaders on success with SMBs, creating a dynamic 2-day dialogue on what's working, and what's not.
"The B2SMBI Leaders' Forum has proven to be our highest ROI event all year," said 2018 attendee Josh Samac, VP of Operations for OnSched.
B2SMB Institute Global Conference 2019
The B2SMB Institute's Global Conference in October is its largest gathering of the year, bringing together hundreds of B2SMB professionals for 2.5 days of market-leading insights coupled with extensive networking opportunities. Attendees include B2SMB leaders who are tackling the challenges of winning, keeping and growing SMB customers – and succeeding. The program's rich content includes thought-leader keynotes, focus-panels and proprietary SMB research presentations, all of which inform B2SMB strategies and tactics.
In feedback about the 2018 Global Conference, Dip Ghuman, Senior Manager, Strategic & Product Partnerships for Indeed, said, "Thank you for bringing such a targeted event like this together. I think I can speak for everyone from the Indeed contingent that they found a great deal of value in attending and hearing from their peers in the space."
For details on all of the B2SMB Institute's 2019 conferences, resources, Membership and more, visit the Institute's homepage.
About the B2SMB Institute
The B2SMB Institute is the first professional organization focused on advancing excellence in the business-to-small-business ecosystem. B2SMB leaders, practitioners, brands and enterprises rely on the Institute for critical market intelligence resources, peer-to-peer networking, best-practice guidance and specialized skills development. The B2SMB Institute champions small-business-centric thinking and practice, with a focus on how to reach, engage, win, keep and grow SMB customers. The member-driven organization serves as a dynamic, daily destination to find, meet and network with B2SMB decision-makers who share common needs, challenges and goals. Visit https://b2smbi.com/ for details on resources, benefits and membership opportunities.