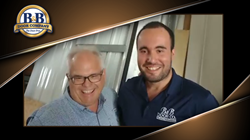 "My father started the business 25 years ago...Over the summers, I spent some afternoon hours with him and learning the industry, learning the business so I have become pretty familiar with it myself and I'm looking to take it to the next step." - Danny Balan
MIAMI (PRWEB) March 17, 2020
It is widely known that family businesses provide stability and longevity in leadership, and this is definitely the type of commitment guaranteed to clients by the B&B Door Company. According to the Family Business Institute Report, only 30% of family businesses make it to the second generation. Having been in existence for over 30 years, B&B Door Company was established by Celso Balan, and is now in the process of being turned over to the trusted and well-qualified hands of the second generation - his son, Danny Balan.
"My father started the business 25 years ago...Over the summers, I spent some afternoon hours with him and learning the industry, learning the business so I have become pretty familiar with it myself and I'm looking to take it to the next step." - Danny Balan, Operations Manager.
Danny recently graduated from the prestigious Florida State University and is now taking up the mantle of working in the family business, alongside his parents, to contribute to its reputation and growth. Danny has taken up the role as Operations Manager at the company and looks forward to continuing the time-honored traditions of quality service, products and relationships at B&B Door Company.
B&B Door Company prides itself on its success which has been founded on the basis of values and integrity that transcends above financial gains to ensure higher levels of accountability, customer service and stable long term client relationships. Aside from its immediate family structure, the B&B Door Company credits the high quality of servicing, repairs and installations of most types of commercial and industrial doors, to their large base of skilled and trained employees - who are in tune with the "family feel" of the entity.
B&B Door Company uses this close-knit culture as a basis for how they treat and interact with their clients - referring to them as an integral part of their extended family. They pride themselves on their commitment to ensuring each client is given a meaningful experience and they come away satisfied with more than just their door product/service.
Since 1986, B&B Door Company has provided servicing, installation and more for commercial clients across South Florida. They know how important it is for their clients to have well functioning doors, so they also provide a maintenance program that allows clients to schedule maintenance services at their convenience as well as 24/7 emergency repairs. So the next time you're in the market for a commercial door servicing vendor, choose B&B Door Company, the door pros that will make you feel like a part of their family.