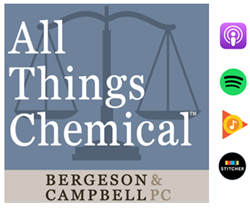 Whether you are a lawyer in the chemical space, a scientist, a product safety manager, or a CEO of a Fortune 50 chemical company, the All Things Chemical podcast will keep you abreast of the latest developments.
WASHINGTON (PRWEB) November 16, 2018
Bergeson & Campbell, P.C. (B&C®) has launched a podcast. It is called All Things Chemical™ and it will engage listeners in intelligent, insightful conversation about everything related to industrial, pesticidal, and specialty chemicals and the law and business issues surrounding chemicals. B&C's talented team of lawyers, scientists, and consultants will keep listeners abreast of the changing world of both domestic and international chemical regulation and provide analysis of the many intriguing and complicated issues surrounding this space.
Episode 1, "Animal Testing and the New Toxic Substances Control Act (TSCA)," features a roundtable discussion about a Strategic Research Plan released by the U.S. Environmental Protection Agency (EPA) earlier this summer, outlining its approach to reduce and replace "vertebrate" testing.
Episode 2, "Chemical Regulation in the Middle East," offers listeners insight into the patchwork of chemical regulatory programs and the complex system of permits and licenses that manage chemicals in the countries of the Middle East.
All Things Chemical™ is available now on iTunes, Spotify, Stitcher, and Google Play. Subscribe so you never miss an episode. All Things Chemical™ is recorded and produced by Bierfeldt Audio, LLC.
Future podcasts, available approximately every two weeks, will address a host of fascinating issues, including recent rulemakings under the Food Safety Modernization Act (FSMA), the ever quirky and complicated area of confidential business information (CBI), new TSCA's effects on chemical innovation, and the "dis-harmonization" of the Globally Harmonized System of Classification and Labeling of Chemicals (GHS). The issues that B&C pursues in its day-to-day business are unfailingly interesting and we wish to share our knowledge, our insights, and our enthusiasm for these issues with you through our All Things Chemical™ podcast.