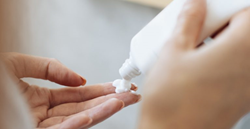 PORTLAND, Ore. (PRWEB) January 28, 2020
Beauty retailer b-glowing.com has published a post on their popular blog The Glow featuring a list of beauty products to help motivate you to achieve your New Year's resolutions while looking and feeling beautiful. The blog post, entitled "Beauty Products to Kick-Start Your New Year," features versatile skincare and beauty solutions from best-selling brands like Kosas Cosmetics, Oribe, Slip, FOREO, and more. The motivational blog post includes tips for feeling fresh at the gym, ways to revitalize and replenish skin, as well as state-of-the-art tools and skincare devices to revamp your beauty routine. The post also offers tips for wellness and mindfulness with offerings from marine collagen supplement brand Girl and the Sea, and essential oil purveyor Uma Oils.
The Glow by b-glowing
Beauty Products to Kick-Start Your New Year
https://www.b-glowing.com/blog/beauty-products-to-kick-start-your-new-year/
About b-glowing.com: Curating Beauty Since 2004. Now in its 15th year, b-glowing.com features more than 150 brands and has been recognized industry wide for its extraordinary collection of hard-to-find niche beauty products alongside some of the world's most coveted beauty brands. The company's success is due in part to Lisa King's discriminating buying taste and ability to discover progressive brands for her loyal customers. The b-glowing.com shopping experience includes large product images, easy search and navigation, a knowledgeable Beauty Concierge, personalized recommendations by skin type, brand exclusives, worldwide shipping, free domestic shipping on orders $75+, hassle-free returns, and three free luxury samples with each order.
For additional information, please visit b-glowing.com or follow b-glowing.com on Instagram @bglowing + Facebook.