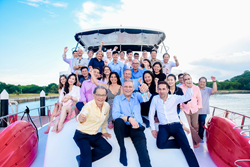 Experience Luxury Yacht Charters At Affordable Rates
SINGAPORE (PRWEB) August 22, 2019
B.O.B Marine, a local Singaporean Luxury Yacht Charter, will reopen its doors with a brand-new look, intending on reaching out to all audiences with their new rebranding exercise.
For the last 3 years, B.O.B Marine has gained a significant amount of success, with many customers looking to rent their yachts between 30 to 40 times a month. However, facing the challenge of a competitive ever-growing industry, the Singaporean yacht charter looks to fine-tuning every aspect of their business.
Headed by Alevate Marketing with Marketing Strategist Roy Phay and Branding Strategist Bryan Tan spearheading the overhaul, B.O.B Marine now looks to rise up to new heights and market themselves to a larger group of audience.
From their logo, website, social media platforms and blog, B.O.B Marine yacht charter hopes to have more people book their fleet of yachts during weekdays, with a fresh new coat of paint on the business.
In doing so, B.O.B Marine hopes to debunk myths on yacht charter prices, sending the message to people of all backgrounds and ages that yacht rentals are fairly affordable with minimal hassle. They seek to break this rumour about an industry dominated by tight-lipped and close-guarded businesses aiming only at the earning from the rich & affluent.
"We are boaters, not brokers." commented Kah Meng, one of the co-founders of B.O.B Marine. In this statement, Kah Meng expresses B.O.B Marine's goal to share the boating passion compare to old industry brokers that wishes only for profit.
There are many benefits to chartering directly from yacht owners like those from B.O.B Marine. Because they own, repair and maintain their own fleet of luxury yachts, they command the best rates and services among other industry players..
With a team of full time staff comprising of customer service officer, operation crews and captains, they are ready to take on charters anytime; be it your yacht party, or corporate yacht charter, providing fun and enjoyment for all that choose to rent their vessels.
B.O.B Marine is waiting to commission another boat by the end of 2019, setting the stage for them to handle more charters than before.